Interviews
Pursuing your dream job in a different country: chats about surfing, values, and work with Theresa Salaberger
Still time for doing the things you love?
Learn how Bookinglayer can help you to get your lifestyle back.
Product Tour
Theresa started surfing when she was 17 years old, and although her first experience with it was far from idyllic, surfing ended up being something she would come to build her life around. After her first surf experience at a school that in Theresa'ss opinion failed to teach the students surfing nor encourage them to love it, she made a trip to Portugal where she got to know a surf-school running family, who helped to wake the surf passion in her.
Since then she has been chasing the surf, and managed to build her life around it. For her, working at a place that shares her values is crucial. She explains that she has very high standards about where she would allow herself to work, but when she finds the right place she knows her passion will make her succeed. Theresa has lived in Morocco for the past year, working as a manager for a surf camp, which she feels is a place that perfectly matches her own values. She is passionate about working for a surf culture that fights the kind of mass tourism and collectivism that she believes is what made her own first experience with surfing so disappointing.
Instead Theresa has a much different picture of surfing she want to convey.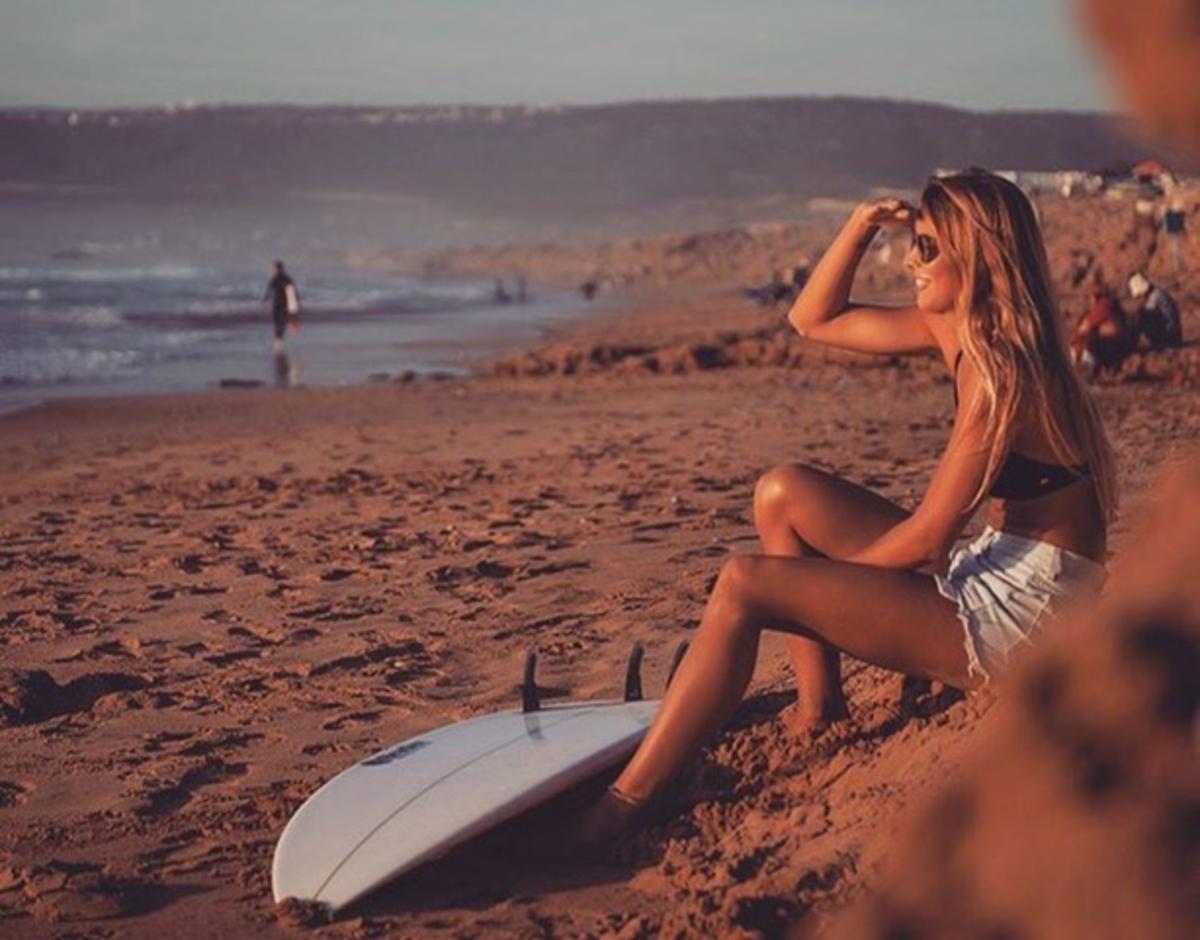 1. Could you tell us a bit about who you are and the story behind how you ended up working in Morocco?
My name is Theresa, I am originally from Austria but fell in love with Morocco and therefore moved here around 3 years ago. I started working for a surf camp one year ago, managing the daily operations and moved from the busy area of Taghazout to dreamy Imsouane, located at one of Africa's longest right hand point breaks.
As I had previously worked for Magic Quiver in Portugal, who have an amazing selection of very special hand shaped boards in their rack, I came back to Morocco and found a surf camp that had a similar quiver in the area. The connection started by talking about surfboards, of course. I aim to follow a different path of surf tourism, preserving the spirit of free surfing and surfing as a wonderful way to meet interesting people and artists, and to connect people with the ocean. I liked that approach a lot as it was so different from many big surf holiday companies, and you could feel that it was not a mainstream surf camp for the masses.
Managing a team of individuals with very different backgrounds has taught me to look at each person as an individual with strengths and weaknesses that needs to be respected.
Within my three years in Morocco I learned to deal with the different cultures, although there are still days I struggle with that as a blonde woman in a leading position. Managing a team of individuals with very different backgrounds has taught me to look at each person as an individual with strengths and weaknesses that needs to be respected. I experience and live for many happy and wonderful moments with the team. For example, after organising events when you just enjoy dancing all together by the end of the day, or when you meet your team paddling out calling you into a wave.
2. Do you have any tips on how to align your own values with your work? Meaning, creating a life where you work for something you believe in.
Never lose your values and never stop chasing them - you have to be stubborn on that. I don't really like compromises and to be honest I think people fail making compromises work-wise. You can do so at the beginning to gain more experience, but at a certain age and at a certain time in your life you need to be stubborn and maybe decline one or two offers to find what you are actually looking for. As a surf manager, I have implemented some of my values during the time I have been here already and for example changed plastic soap dispensers to nice dispensers we can refill. We also make our own soap out of essential oils, and we started to compost our organic waste.
3. How come you started surfing and how did you end up working with it?
I started surfing when I was 17 years old in France and to be honest I didn't really like it. Being born in Austria close to the mountains, I was pretty good at snowboarding by then and I loved the park and freestyle. I am a very technical person - I need instructions and I really enjoy having a good trainer. On a holiday just shortly after in Portugal, I met a Portuguese family that was adorable, running a surf school in Sarges and I tried surfing again. The teacher, dad and surf school owner, Rui, is a very good surf instructor who actually managed to awaken my passion for surfing (Thanks to Xana and Rui from International Surfschool Sagres ;) ) and since then I never stopped chasing the surf. I always believed that people do their job best out of a passion, and I was convinced I could do a great job in the surf industry. I passed my surf instructor license and started teaching surfing and later on changed the field into management and marketing. I worked for OTA and other smaller surf businesses, I learned languages and made extra efforts. Nevertheless, it was not always easy as I have very high standards concerning for whom I can imagine myself to work, and I know that it needed to be a company that is true to surfing, not selling to the masses losing the focus on individual clients and their needs, providing the surf lessons that for example I didn't get in France when I was 17. Instead, spread the passion for the ocean, surfing and also awareness for the environment.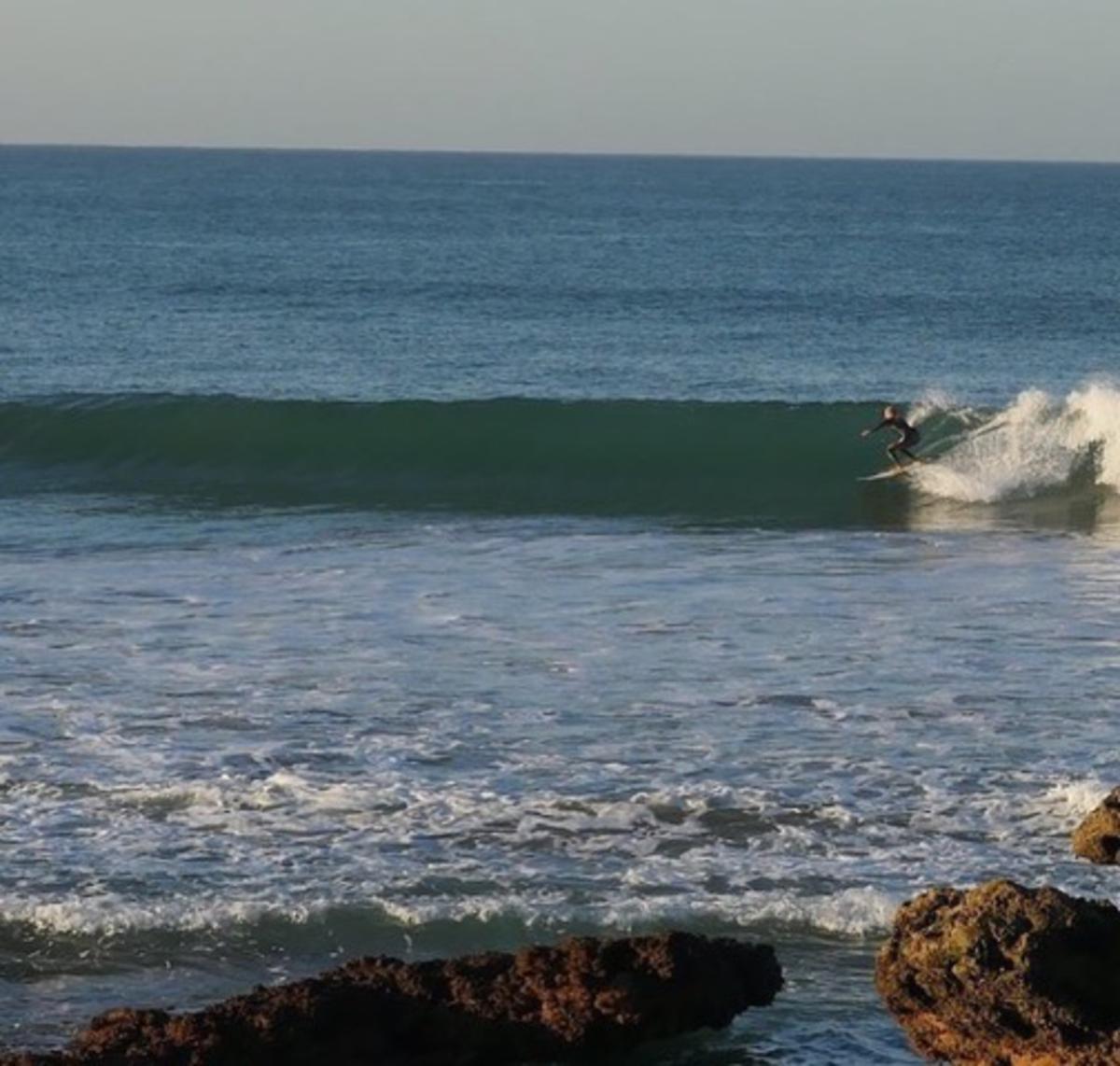 4. Could you open up a bit more about how it has been to work in a different culture? You mentioned facing challenges e.g by being a woman in a managing position.
I took it step by step in the beginning and you have to be diplomatic. It has not always been easy for me to be honest, but in the end you learn that you only succeed if you also listen to others. I arrived as a complete newbie to a company with 35 employees and I needed time to get to know them all and build a relationship with them. I have to say that they were all super welcoming and at the beginning I had to learn from them, too. Getting to know the structure, how things worked so far, the people and the challenges took me at least 2 months.
I arrived as a complete newbie to a company with 35 employees and I needed time to get to know them all and build a relationship with them. I have to say that they were all super welcoming and at the beginning I had to learn from them, too.
When I first visited the kitchen I remember the team was surprised to see me as the new manager, and told me they never had a woman in this position before. So I think still as much as I would love to say women and men are equal it took me longer I guess then it would have taken a guy to gain certain people's respect, and I worked hard to get it but nothing is impossible - patience and perseverance are the key.
5. Do you have any advice for someone wanting to live and work in a new country with a different culture?
Get to know this country first! It helped me so much that I have been here for two years already and I learned so much on the way. Establish contacts that can help you later, get to know habits, places and the culture and adapt to it. I think arriving in a place with a very different culture and starting to work straight away is very hard. Not saying it takes you two years - I also worked during this time, of course, mostly for a Travel Agency which actually helped me later a lot, but it might take some months to see if this is a place where you can see yourself long term, working and living. If you have a plan and if you work hard for it you will always succeed and your work will be appreciated.
6. What do you like the most about running the business and working with what you do?
I truly love that no day is the same. You wake up in the morning thinking you might have an idea of how the day will go and things usually turn out different. Meaning I always have to be very flexible but sometimes you have a quiet moment that you actually didn't plan, you look at the ocean and just quickly grab your board and run to the beach for a surf. Having the luxury to be that close to the surf and a business that allows you to combine surfing with a fulfilling job is really what I appreciate the most. I also love to be close to clients and sometimes it happens that I spend an hour chatting with a guest over something while having a coffee on the terrace. My hours are flexible and I arrange my days pretty much myself so that freedom is something I also appreciate a lot, although I have to say my days are usually quite long.