Still time for doing the things you love?
Learn how Bookinglayer can help you to get your lifestyle back.
Product Tour
Overbooking is a real annoyance for both you as a surf accommodation owner and your customer. Unfortunately, overbookings still occur at accommodations that are using spreadsheets or multiple calendars for their operations. We'll show you how overbookings can belong to the past with the use of Bookinglayer: a booking system specifically developed for surf camps, lodges and resorts.
Say goodbye to Excel and hello to simplicity
A few surf camps still make use of good old Excel and other spreadsheets that can be used to manage financial data. For booking management, however, your life could be a lot easier with a customised system.
First of all, there is the risk of overbooking due to the manual adjustments you need to make every time a booking comes in, is canceled, or changed. Second, there is all the financial reporting you will have to do each month. Thirdly, you lose a lot of time each week to booking requests that come in through the contact form on your website or via third-parties.
What if you could have a system that does your financial reporting (reports on bookings, revenues, and payments based on booking date, check-in date or payment date) for you? What if that same system also supports your customers to book with you directly through your booking form instead of having to send emails back and forth? And what if after each new booking, cancellation or change to a booking the system updates your availability automatically, leaving no chance for overbooking?
With Bookinglayer you can manage your property, inventory, finances, and staff efficiently in one booking system. This means:
No more spreadsheets to report your finances
No more handling and administration of booking requests
No more overbooking
And more:
No more error-prone planning for your activities
No more separate calendar for your staff planning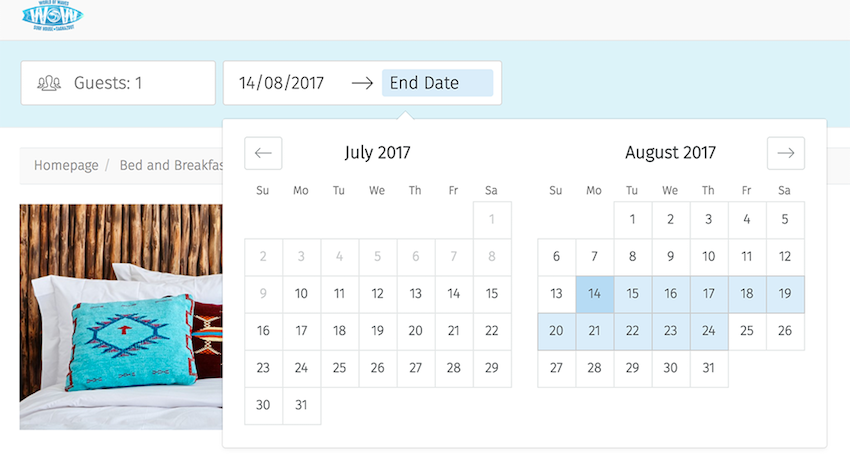 Prevent overbooking with a real-time calendar
With Bookinglayer software you get an integrated booking form on your website for your customers to make their booking. The booking form includes a calendar where customers get to select the date of their desired stay at your accommodation or the desired date to take surfing lessons or other activities. In booking software terms, this is called the frontoffice of your booking system. More practically speaking this is the part of the booking system your customers are able to see. The frontoffice lets your guests easily book in a user-friendly customer journey.
The frontoffice of your booking system communicates with the backend of the system. It makes any bookings coming in through your website stored automatically in your backoffice calendar, together with other customer data, and to update your availability on your frontoffice calendar instantly. This is the part of the system where you and your staff can manage your bookings.
In addition to the bookings through your booking form, you can create bookings in your backoffice calendar yourself too. This is handy for bookings that are made face-to-face at your venue or via phone. Partner bookings and channel bookings can also be synced with this same one backoffice calendar. You can simply permit resellers to access your backoffice via a unique login to make their bookings. For channel bookings you connect with MyAllocator to sync the bookings from channels like Booking.com and Airbnb.
With the backoffice calendar, you now have one clear overview of all of your bookings per day, week, month or longer and you get to select which staff can view which data. Another way the booking system helps to prevent overbooking is the ability to block dates for certain events or holidays.
Save time with great email features
You not only want to prevent overbooking but also want your surf camp to be booked out most of the time. To ensure this, you want to spend your time on the things that matter most.
In addition to a calendar, the Bookinglayer system offers a lot more features that help you manage your bookings. In the backoffice, you will find Template Responses and Reminder Emails that save hours per week on writing emails to customers about a deposit or balance due. You can also trigger an email or SMS to your customer (or a staff member) when a booking status changes. The email feature includes built-in email templates you can use, such as the Travel Reminder, Welcome Home email or Transfer Info Request.
Want to know more about Bookinglayer and all of its features? Go to our Tour page, or start your quick walk through and trial account to check it out for yourself.