Still time for doing the things you love?
Learn how Bookinglayer can help you to get your lifestyle back.
Product Tour
Updated in August 2020
Many hospitality business owners may wonder how to calculate and increase their occupancy rate. Staying fully booked with a 100% occupancy all year long is fairly uncommon, and that's why low season is a perfect time plan some actions that could increase the occupancy rate at your hotel.
Have you thought about investing some of your time into looking at your reports to learn from your data and start planning for next year? Well, you should! Looking at your occupancy rate, analysing it, and making plans for the upcoming season holds a lot of potential to increase bookings in the future.
What is an occupancy rate?
The occupancy rate shows the percentage of occupied rooms on your property in a given period compared to your total of rooms. In other words, it gives you an idea of how many guests are staying with you as opposed to how many guests could actually be hosted on your property.
A universal occupancy rate formula is: (number of rooms booked)/(total number of rooms)*100%
To give you an easy example let's calculate the daily occupancy rate for a hotel with 10 rooms. Let's say that today we have 7 rooms booked. This means that we have a 70% occupancy rate for this particular day.
How to measure the occupancy rate of your property
Measuring your occupancy rate seems to be an easy guess, right? However, calculating the occupancy rate over a longer period of time does make it more complex. The first thing you need to know is the total number of nights sold in a given time period for any of your rooms. Let's call those 'room nights'. If you are looking at an entire month, you will have to look at all room nights sold during this month.
Unfortunately, you cannot simply count the bookings, as bookings vary in terms of duration and number of guests. To calculate, use the following principle: a double room two-night booking equals four room nights. After you have calculated this number for the desired period, you divide it by the total number of your rooms and then divide this by the number of days (in this case 30).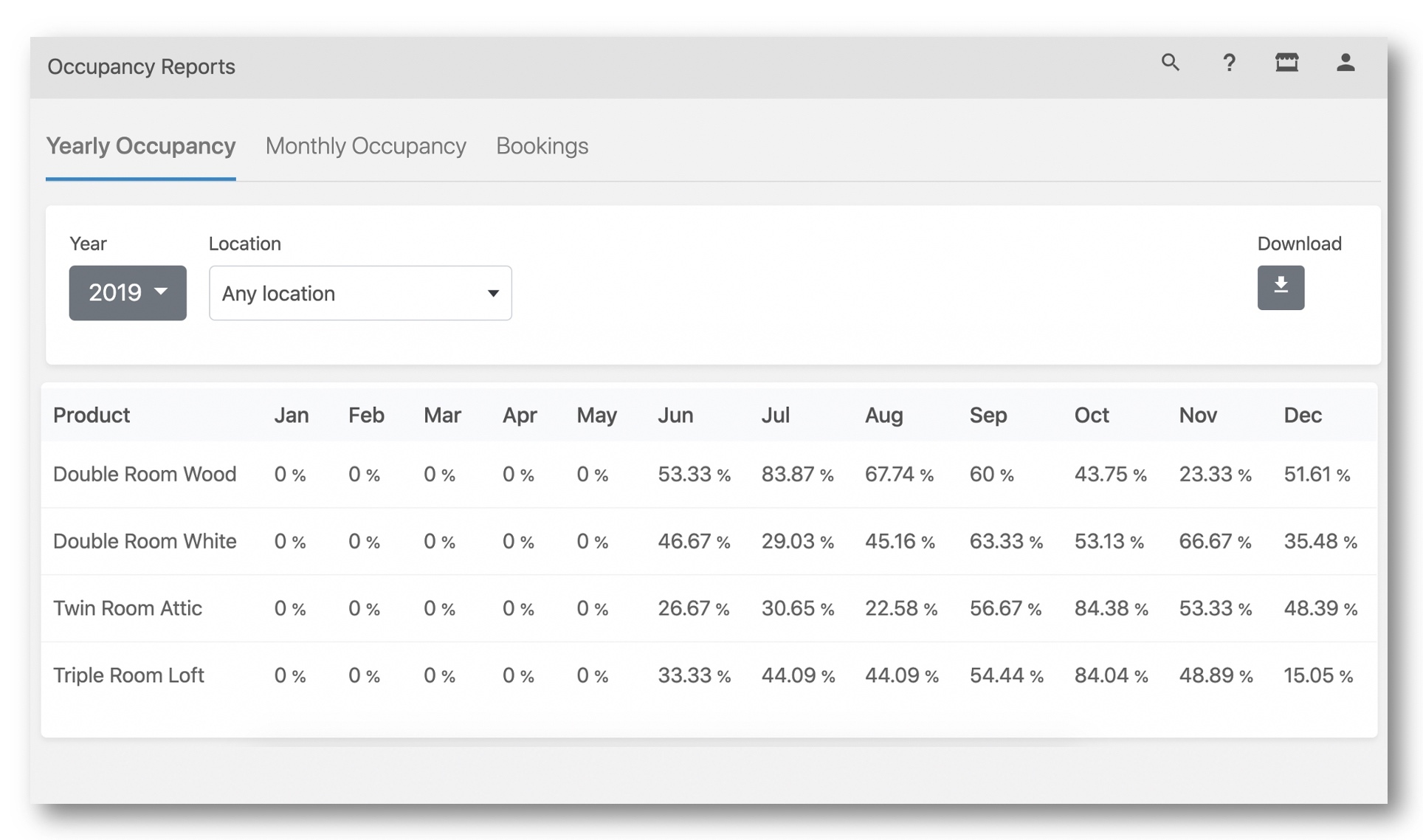 There are tools that can calculate the occupancy rate for you. With Bookinglayer there is no need for those calculations, as it directly generates and shows your occupancy rate broken down per month and room. The feature is incorporated in your account that supports this calculation and shows you your occupancy rate on a monthly basis directly, together with other financial indicators such as revenue, commissions you need to pay to third-parties and partner statistics . Also, you can check the occupancy rate of private rooms versus shared rooms. All of this data is automatically generated in your account, so a calculation is not even needed.
Why is the occupancy rate useful?
Your occupancy rate is an important indicator of success. It is also a good idea to monitor occupancy rate if a significant part of your revenue comes from additional spending on rentals or activities.
Additionally, you can check how your business is doing compared to the yearly or monthly avarages in the region. According to Statista the highest avarage occupacy rate was in Europe. The yearly occupacy rate equaled to 72,2%. Check out the current month-by-month stats to always be up to date.
The occupacy rate gives you an overview of your current business situation. Planning prices and discounts according to the occupancy rate trends can be of much help while figuring out your yearly financial plan.
Tips to increase your occupancy
Let's explore some improvements that you can apply to you hospitality business to increase the number of bookings and in consequence, your occupancy rate.

Adjust the duration of stay
You can adjust the length of stay for your guests to improve your occupancy rate. At the end of peak season and the start of the low season apply a minimum length of stay. Accept mainly bookings for a longer stay rather than short-stay bookings. This will help you increase occupancy during your lower seasons.
Work with discounts
Seeing that your occupancy rate is low for a certain time period or a specific room, you could give discounts on those and let people know no social media, for example. With Bookinglayer, you can set automatic discounts to apply for certain items and time periods, or work with coupon codes. Imagine an Early Bird Discount Coupon for the first week of June for the Triple Room only.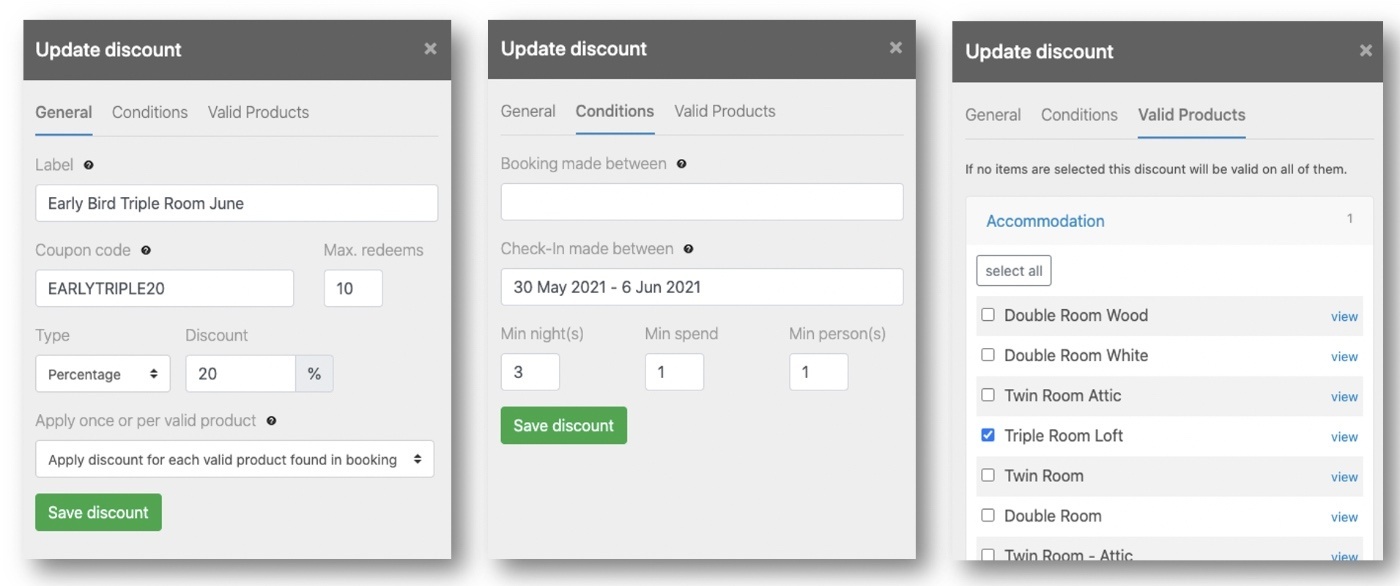 Offer packages
Sell packages, rather than accommodation only. Tempt potential guests with packages including fun activities you can offer and market them on your website. Maybe you want to offer surf lessons, yoga classes, or other outdoor sports. Packages are a great way of tempting people to book with you as well as to increase your revenue per booking.
Explore new marketing channels
Find new ways to increase your online presence. Find new clients on less popular social media platforms or experiment with content marketing. Get listed on booking.com alternatives or regional business listings. Refreshing your marketing strategy is a great way to increase your reach new potential visitors and increase your overall occupancy.
Encourage group bookings
Bigger groups mean more people at your property at the same time. Encourage your guests to make group reservations with special offers or loyalty programs. Explore new partnerships with travel agencies to increase your occupancy rate in low season. Host retreats or camps to make sure your rooms are booked in advance.
Accept more direct reservations
The main share of bookings for most properties comes in through third party channels. Which is a waste, especially in low season, as you pay a commission for each booking. To accept more direct reservations you need a booking form on your website. Using a booking form will save you time, help you build your customer database and increase your reservations. It allows for you to simplify your booking process, both for you and your guests, which will improve your occupancy.