Still time for doing the things you love?
Learn how Bookinglayer can help you to get your lifestyle back.
Product Tour
In 2020, we started rolling out the Bookinglayer Connect functionality. One of the first users was SurfaWhile, a surf travel agency from the Netherlands. Now, about one year later, we asked them to share their experience with the software.
**Bookinglayer Connect ** was created to simplify cooperation between accommodation hosts and travel agencies. Hosts can share their packages with partners and get an easy way to find new audiences for their services. On the other hand, the agencies can promote packages created by multiple accommodation partners.

Hi Olmo, how is Bookinglayer Connect working for you?
Olmo van Beurden: We run two online surf travel agencies and Bookinglayer Connect is making so many of the daily processes a lot easier. I can recall those days where we had to double-check with our partners whether or not they still had availability. It was likely to happen that the prices displayed on our website weren't matching those of the partner due to some last-minute changes. Bookinglayer Connect is just making our lives easier.
Which feature is most helpful?
Olmo: The fact that we can ask our partners to simply share their packages with us and then have the real-time ability to resell the packages via our own branded Booking Engine. It is making our lives a lot easier. Bookings end up automatically in the Backoffice of our partners and in our own Backoffice. Emails in which we communicate a booking to the partner are no longer needed. In the past, they could have easily been lost.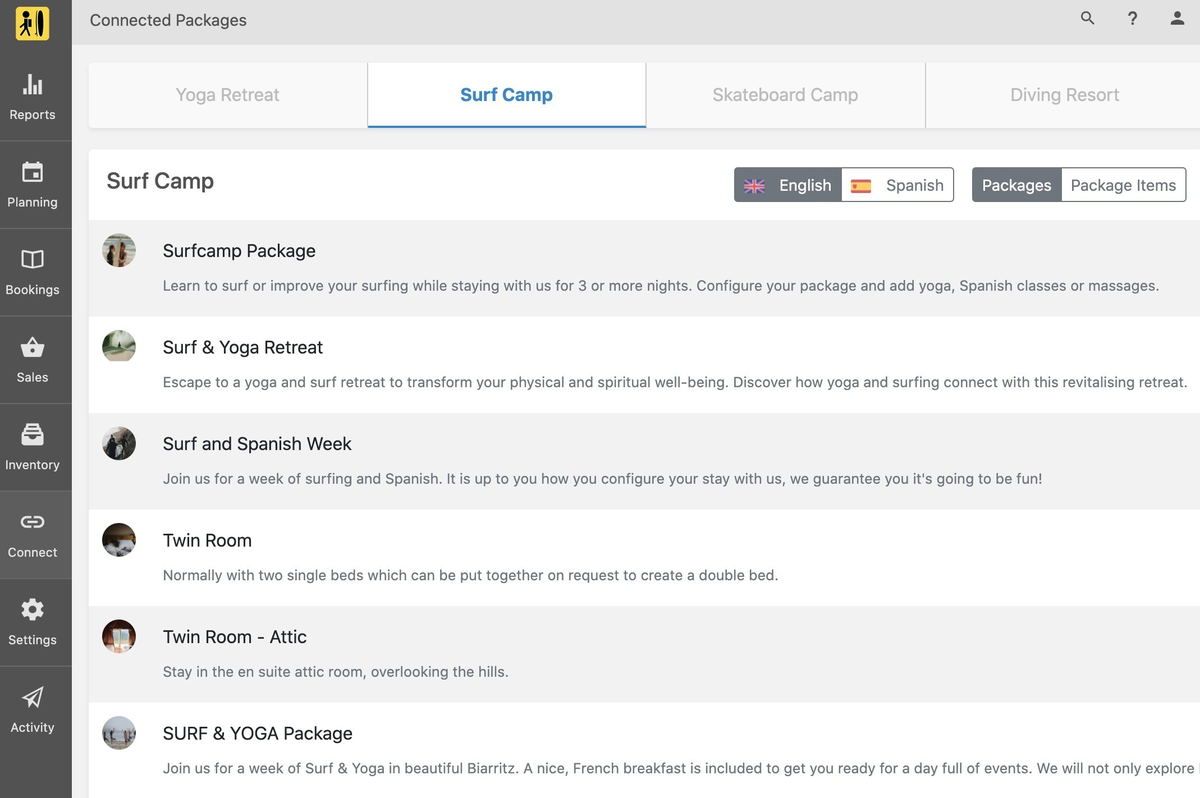 Does the accommodation partner still get in touch with the client?
Olmo: Together with our partners we have been looking for the most optimal to structure the email flow. We found that we should be in charge of the communication in regards to confirmations and payments (as we take care of that anyway), while the partner can send out the welcome information as well as get in touch with the client about their arrival information.
In addition, I like the fact that we actively discuss these kinds of things with our partners. It leads to new insights and ideas. We have certain ideas on how the welcome letter should look like and our partners also give us tips on how to structure the information provided in the confirmation email. In this way, we co-create the best possible email flow for the clients.
Is the entire process functioning in full swing?
Olmo: Currently, Bookinglayer Connect only lets a booker pay directly to the partner, and as it was a requirement for us to handle payments on our end, we've asked to disable the payment step. As a consequence, we have some additional workload in sending out invoices and payment links. However, the Bookinglayer team is committed to develop Bookinglayer Connect further so that we, as resellers, will also be able to automate charges and invoices.
Are you looking for more accommodation partners to work with?
Olmo: We are always open to interesting collaborations with surf camps or other types of retreats that use the Bookinglayer software. The accommodation owners can get in touch with us through the website of our mother company Coconut Travel Collective. Besides, we are also in charge of Errant Surf Travel, a website with a very similar look and feel that focuses mainly on the international market (rather than a Dutch-only website).** We are looking forward to new collaborations in the future!**

Photo credit: Mylan Rosendaal