Tips and howto's
The Booking Engine Guide: How to make your Booking Engine look great and improve your reservation process
Still time for doing the things you love?
Learn how Bookinglayer can help you to get your lifestyle back.
Product Tour
Your Booking Engine is the crucial element of your website. It's the place where your future guest can learn more about your offer and make their bookings. The experience they have with your Booking Engine directly influences their decisions.
With Bookinglayer, you can adjust the Booking Engine's design, structure, and descriptions. Customizing your setup will make the booking process smooth and easy to navigate for your future guests. It will also help you with building your brand awareness and increasing your online credibility.
Take a look at this guide to see how you can implement adjustments that can really make a difference. Choose the ones that would be useful for your specific scenario.
Let's dive in and take a look at the tips!
Use the right widgets
Make good use of the Bookinglayer widgets. These are the building blocks that you can use to create your Booking Engine setup. You can manage widgets in Sales > Booking Engine > Layout.
To add a widget, click "Add widget", and choose one of the options.
Here's a quick explanation that lets you understand what you can use different types of widgets for:
Category - use it to create groups of products
Product - add a product from your Inventory
Activities calendar - add multiple activities and present them in one calendar
Text - add aditional descriptions
Link - create a link to any URL outside of the Booking Engine
Label - add titles to organize your Booking Engine
HTML / Embed - use it to embed a video
Widgets are the blocks that will appear in your Booking Engine. With drag and drop, you can position them in the desired place. You can also change their size. If you'd like to learn more about widgets, visit our Help Center.
Adjust colors
The Look & feel section is the place to check out if you'd like to adjust the graphic design of your Booking Engine. Open the Theme Editor to apply changes to colors, fonts, borders, and image sizes. This is a handy tool that lets you see the preview of changes in real-time. You can use it to try out different designs - your guests won't be able to see changes until you hit the "Save" button.

Make sure that your Booking Engine design matches your brand colors that you use on your website. You can provide HEX, RGBA or HSLA color codes. There's also an option to simply choose the color you like from the menu. Take your time to explore this functionality - you can change the colors of all elements that are visible in your Booking Engine: background, buttons, text, labels, widgets, links, etc.
Bonus tip: Adjust the color transparency of "Content background" to make the widget images visible underneath the title.

Choose matching fonts
The Booking Engine's font should match your website's font. The best way is to simply choose the same font that you're using for your webiste. You can choose from Google fonts that are available in the Booking Engine. If you're using other fonts, you can use one of the alternatives that looks similar.
Don't confuse users with multiple different fonts when they navigate your website. It's a good UX practice to keep all your subpages similar and in the same design style.
Display multiple images
Eye-catching images are essential for a good visual representation of your location. Add multiple images to your Booking Engine and present them in an image carousel. Thanks to that, you can show off your property as well as the activities that your potential guests will be able to join during their stay with you.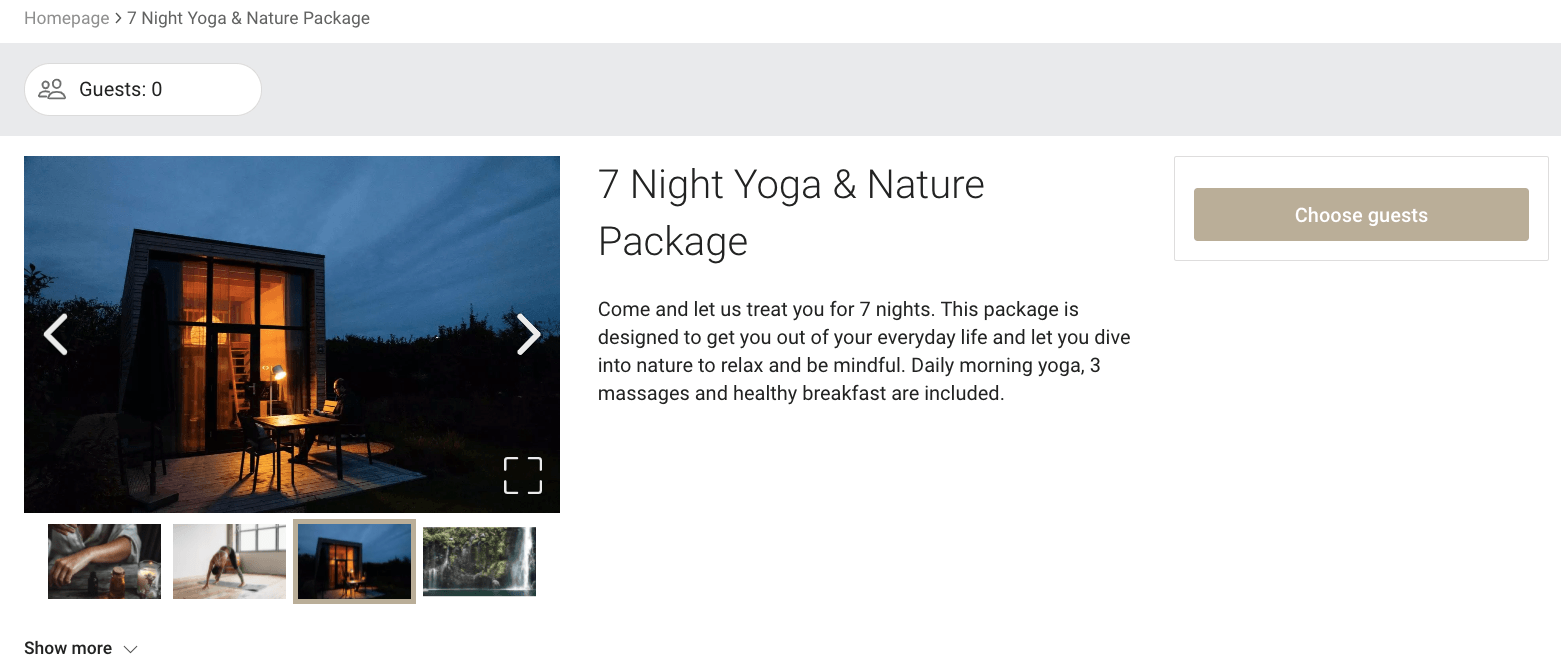 You can add the images on the product level. You can do it for Packages, Accommodation, Services, Activities, and Items. To do that, go to your Inventory, choose the product, and add the photos in the "Images" section. You can drag and drop the photos to change their order.

You can also bulk upload images in the Photos section: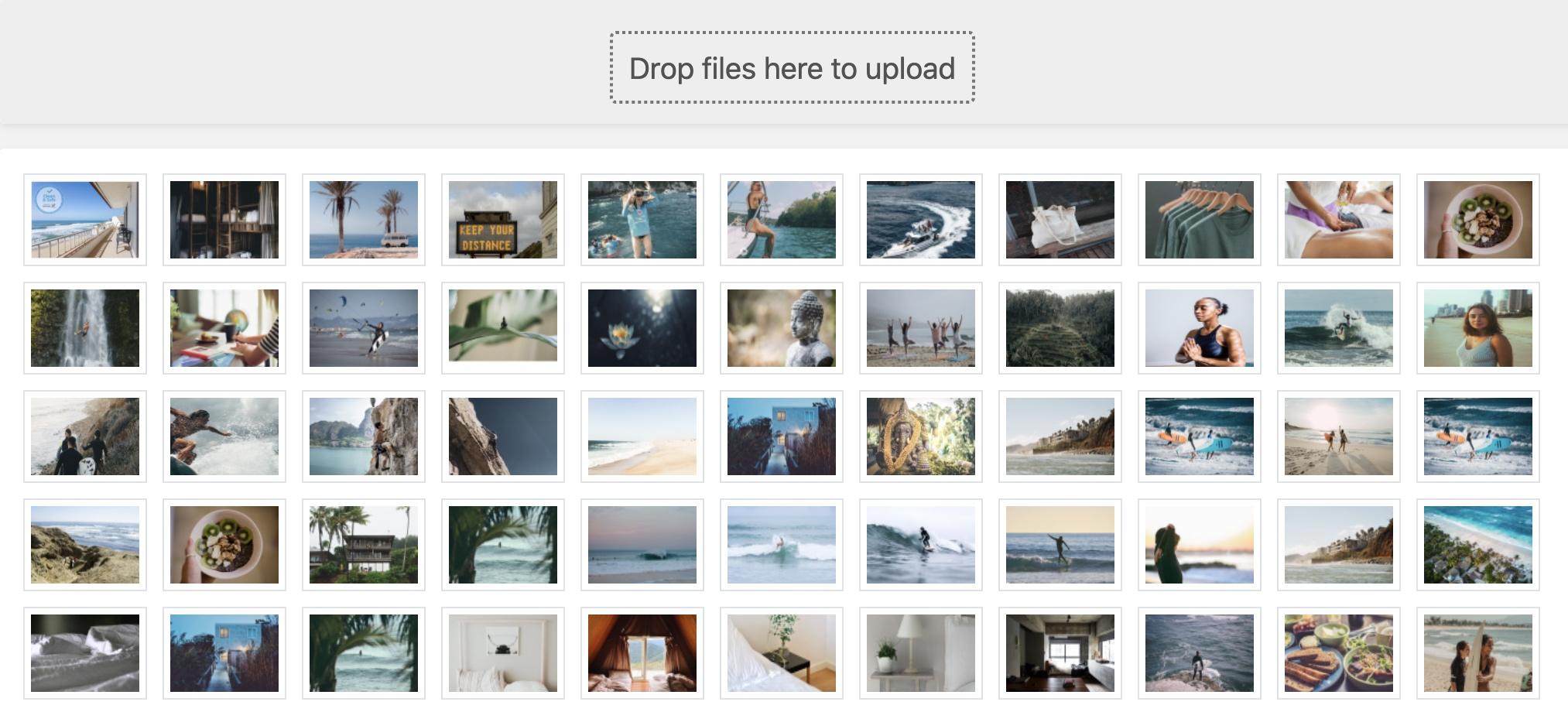 When you're uploading the photos, remember to:
keep the image file size smaller than 3MB.
use Web Image Optimizer (e.g. kraken.io) to decrease the file size and maintain the image quality.
resize your photos (1200px or smaller)
choose landscape image orientation instead of portrait
Add videos
In your Booking Engine, you can embed a video using the "HTML / Embed" widget. For the best results, we recommend hosting your video on Vimeo or YouTube. In this article, you'll find detailed instructions on how to embed a video.

Display amenity icons
Add icons that describe amenities that you offer with your accommodation. You can choose from multiple different icons: WiFi, air conditioning, ocean view, towels, welcome gift, and many more.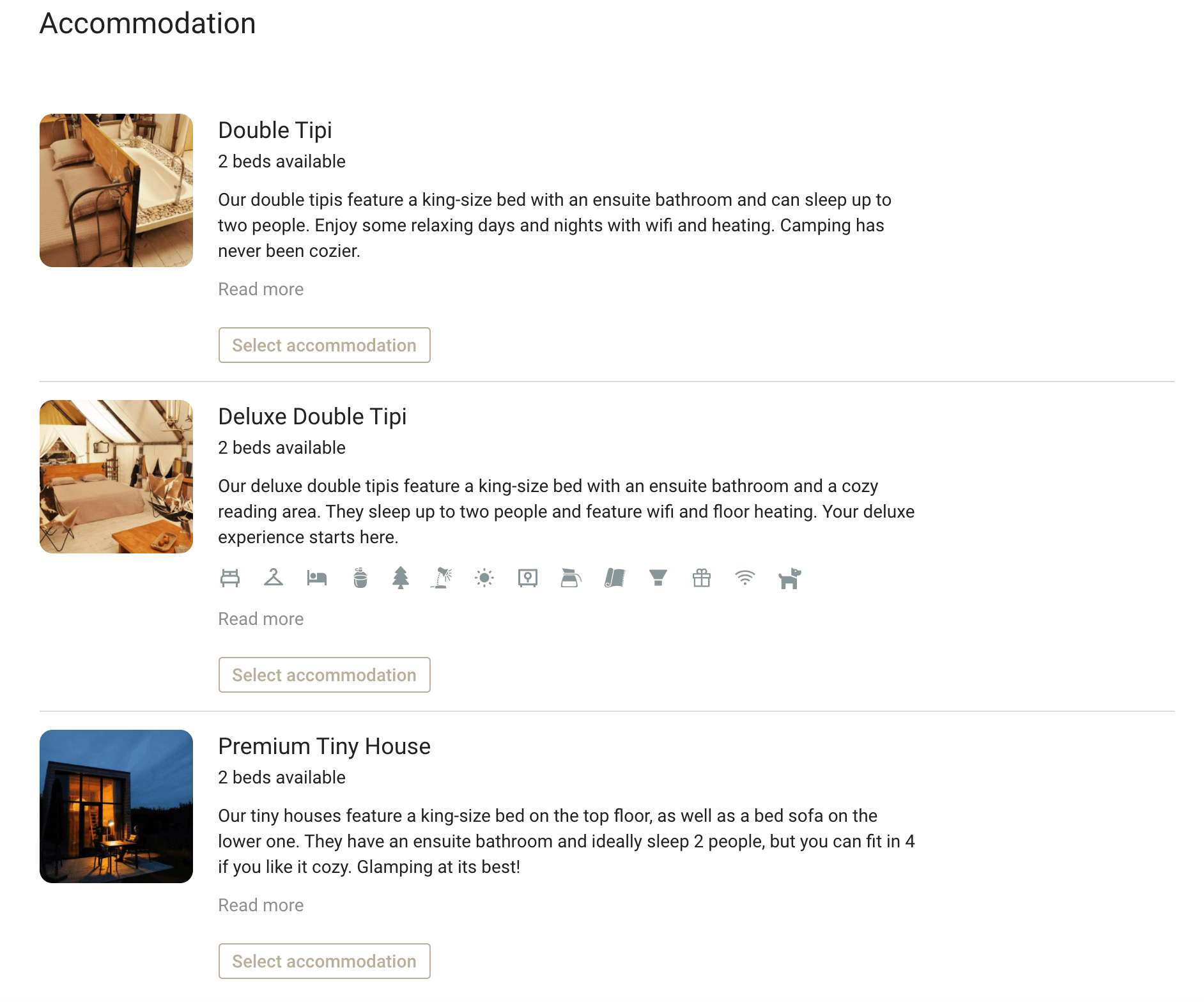 Add a visual representation of your amenities to your Accommodation view in your booking flow. This will help your guests easily compare the accommodation options available.
To add the icons that, go to Inventory > Accommodation. In the "Amenities" section, click "Edit", and choose the amenities you'd like to add to the accommodation. Remember to save changes.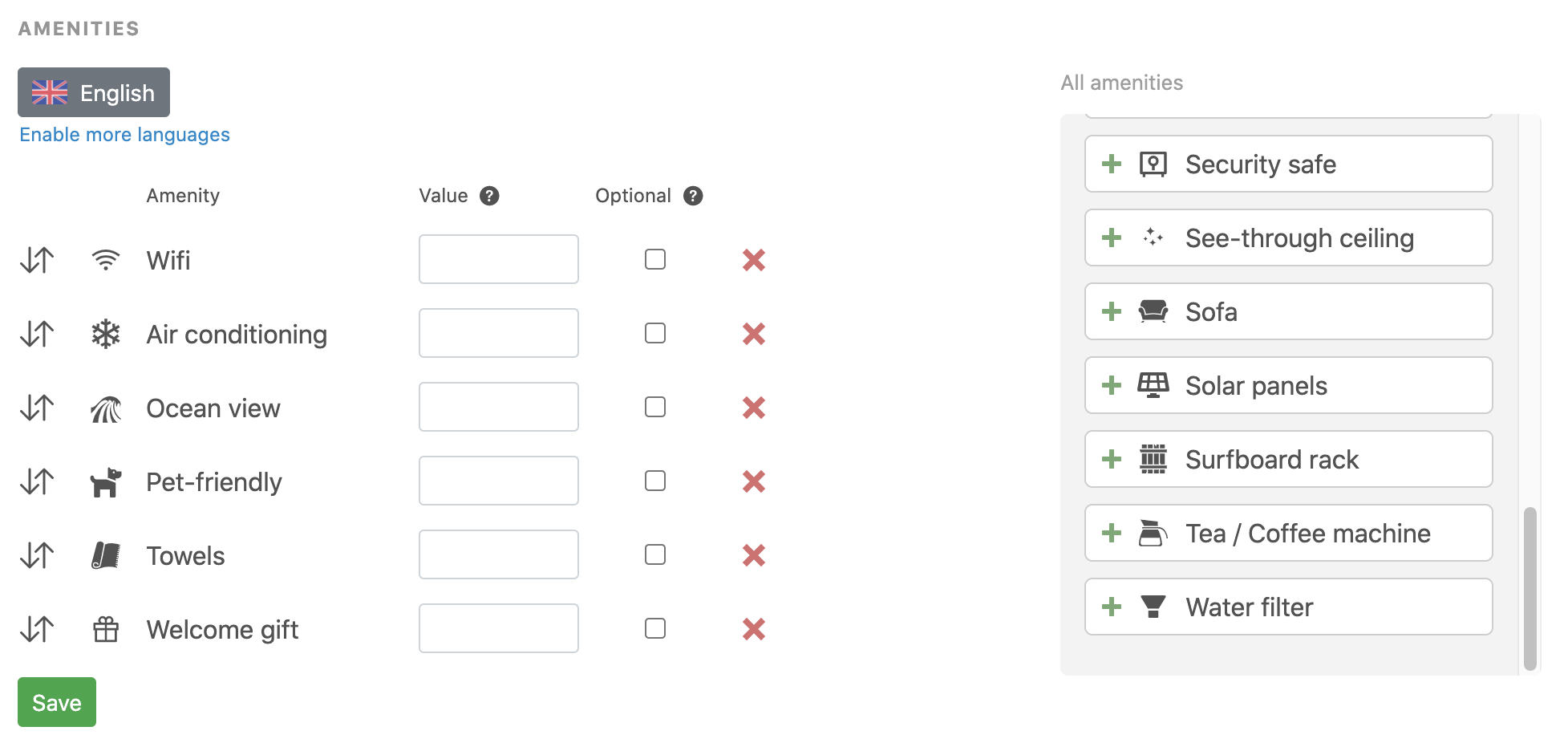 Upload your logo
Make your brand's logo visible in the upper left corner of your Booking Engine. In Sales > Booking Engine > Look & Feel, you can upload your logo. First, upload a general logo that will be visible on all devices. You also have an option to upload a simplified version of your logo that will be visible on mobile devices. It's a good practice to use this option, as it will improve the mobile booking experience for your guests.
Another option that is useful in this section is the "Logo URL" section. Here, you can insert your homepage URL (or any other URL). Thanks to that, the users will be redirected to your homepage when they click the logo. By default, your users will be redirected to the main page of your Booking Engine.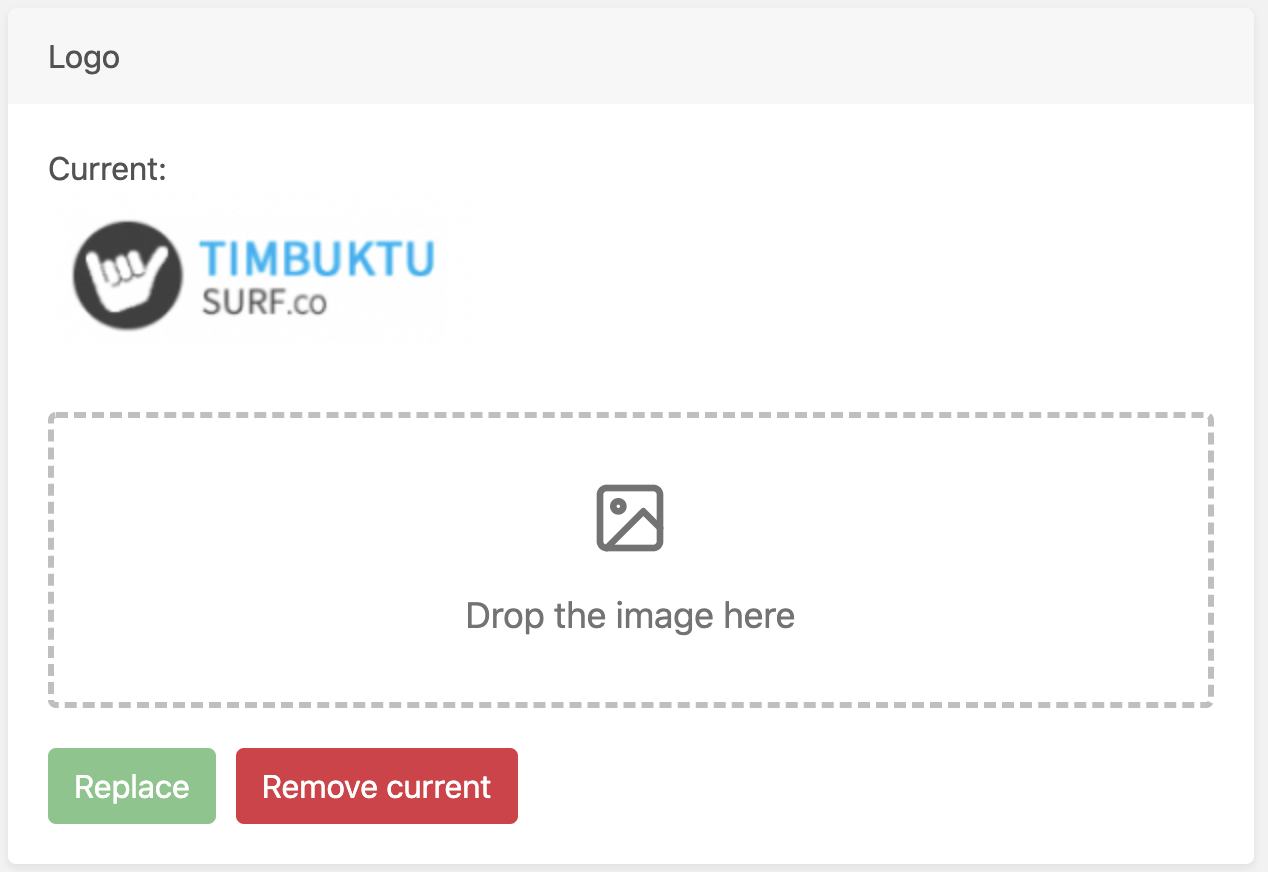 Add links to the Footer
Add your social media or other links to your Footer. It's a good opportunity to share some additional resources with your potential guests. Social media links work well for your online credibility and adding a customer story or an interesting blog post can be an additional boost that will convince the user to click the "Book" button.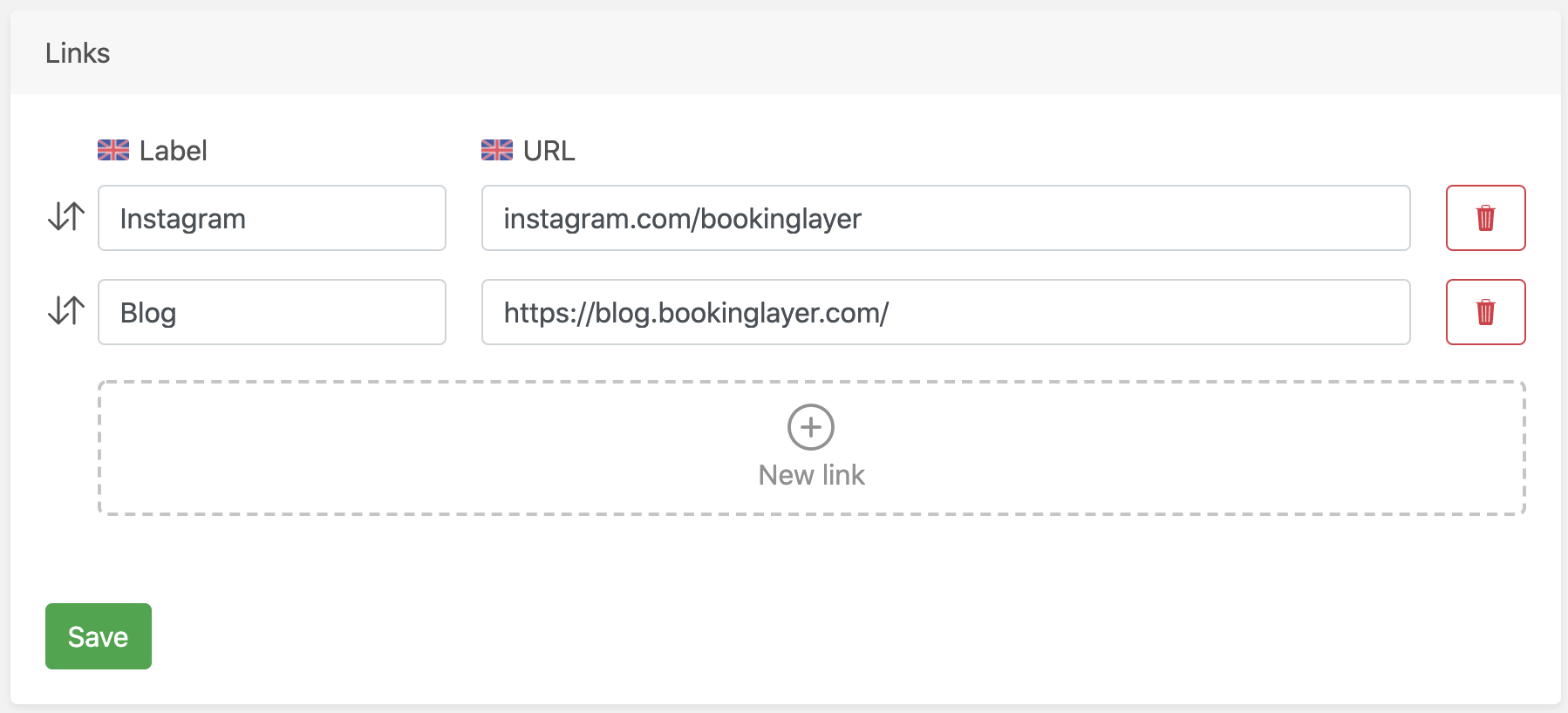 Manage categories
If you work with many types of offers or different destinations, categories are a great way to simplify the navigation within the Booking Engine. You can also create categories to present offers for groups or individuals. Another idea is to create an "Accommodation only" category where the guests can book rooms at the base price - later on, you can offer them additional services (in the Customer Portal).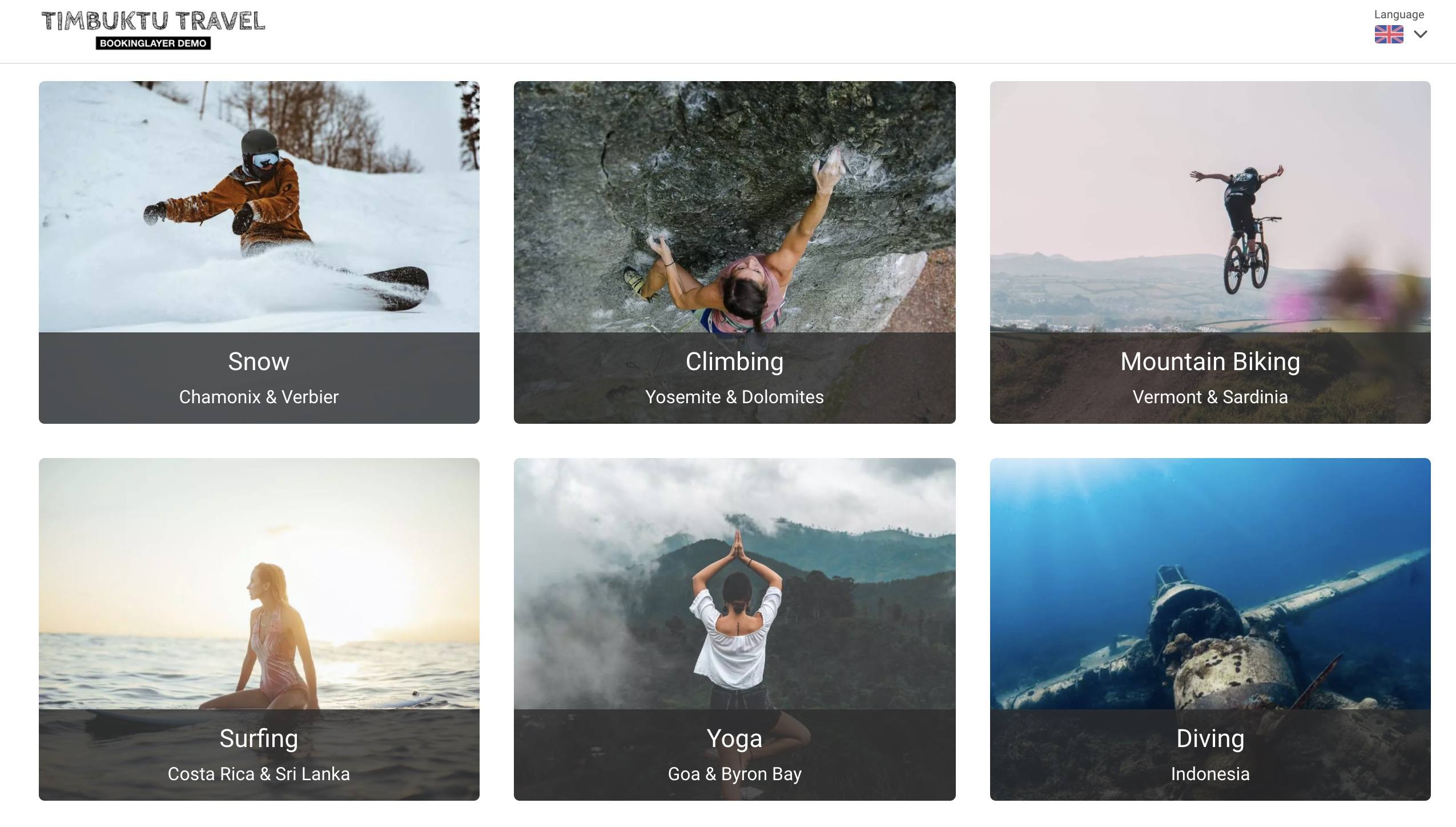 Write compelling descriptions
Descriptions are equally important as the images as they directly influence the decisions to book. Make sure that your texts are up-to-date and describe the current state of your offer.
There are four ways to add text to your Booking Engine:
create a text or label widget
add titles, subtitles, and descriptions (for other widgets)
add descriptions in the "Content" section for specific products in your Inventory
include Custom Content in the booking flow
To make sure that the language you're using is actionable and concise, use the Hemingway app. It helps you simplify your writing and gives suggestions on how to make your sentences sound better.
Adjust Guest and Customer Forms
It's possible to customize both your Guest Form and your Customer Form. To learn more about the Gust Form configuration, check out this article.
The Guest Form allows you to gather details from all guests that are added to the booking. This means that if you have four guests, the user will need to fill in the details for all four guests. By default, this step is displayed after choosing the number of guests and the dates. You can customize the fields that are displayed here in Sales > Booking Engine > Guest Form .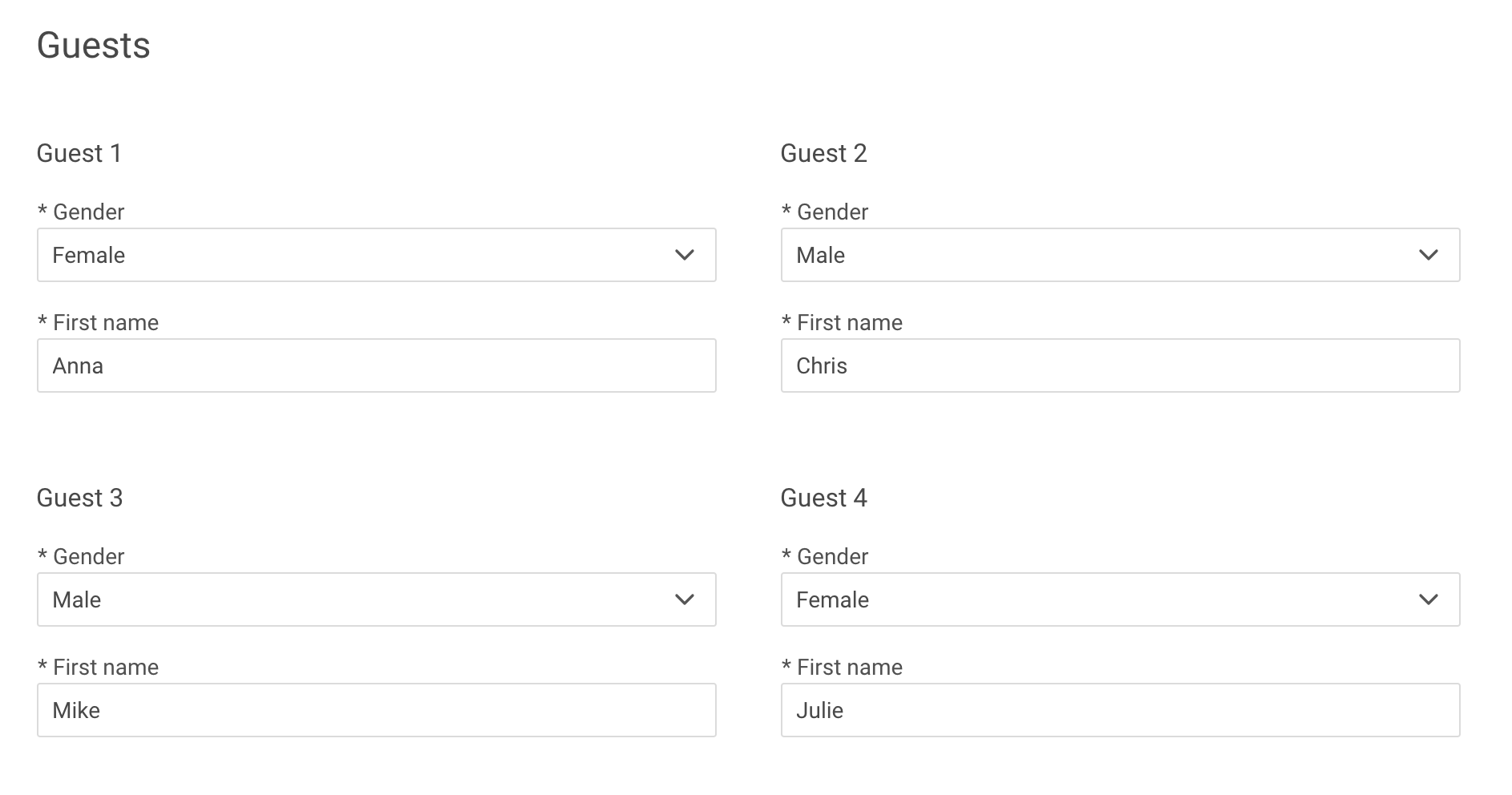 Another option is to move this step to the end of the booking process. It will be then displayed before the Summary. To do that, switch the "Collect guest details on checkout" toggle on.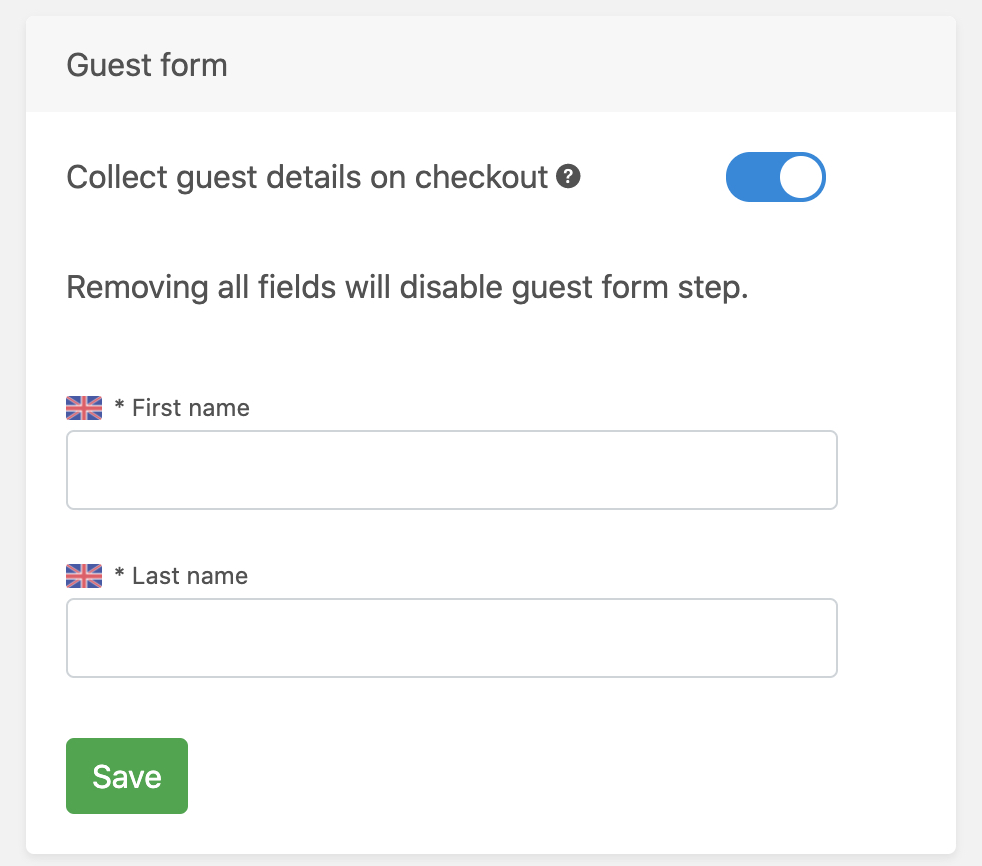 To simplify the booking process, you can skip the Guest Form step altogether. To do that, simply delete all fields from Sales > Booking Engine > Guest Form. Please note that if you're using guest group pricing, it won't be posible to delete this step as the system calculates the price for the stay according to the age of the guest.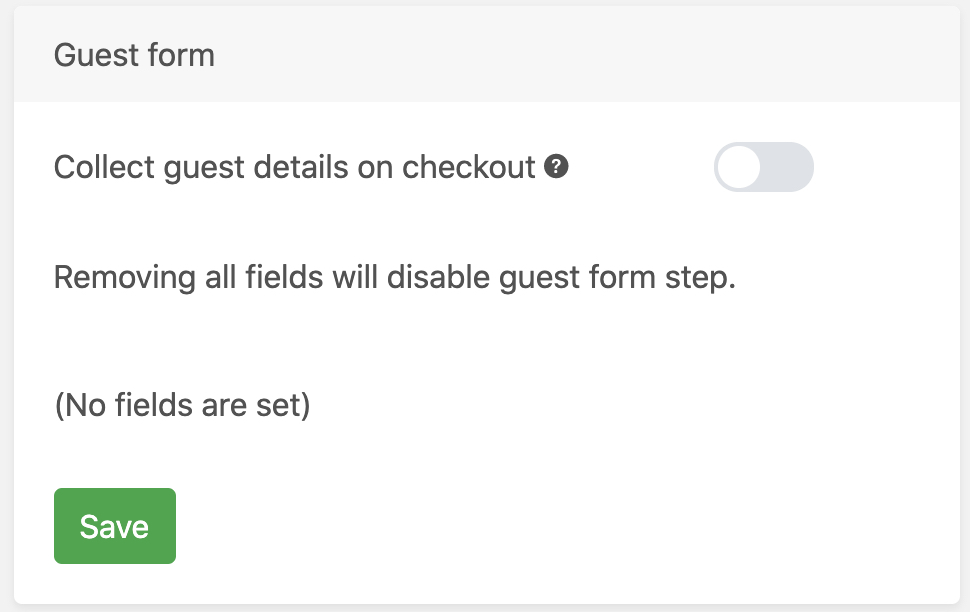 You can also make the fields required or optional.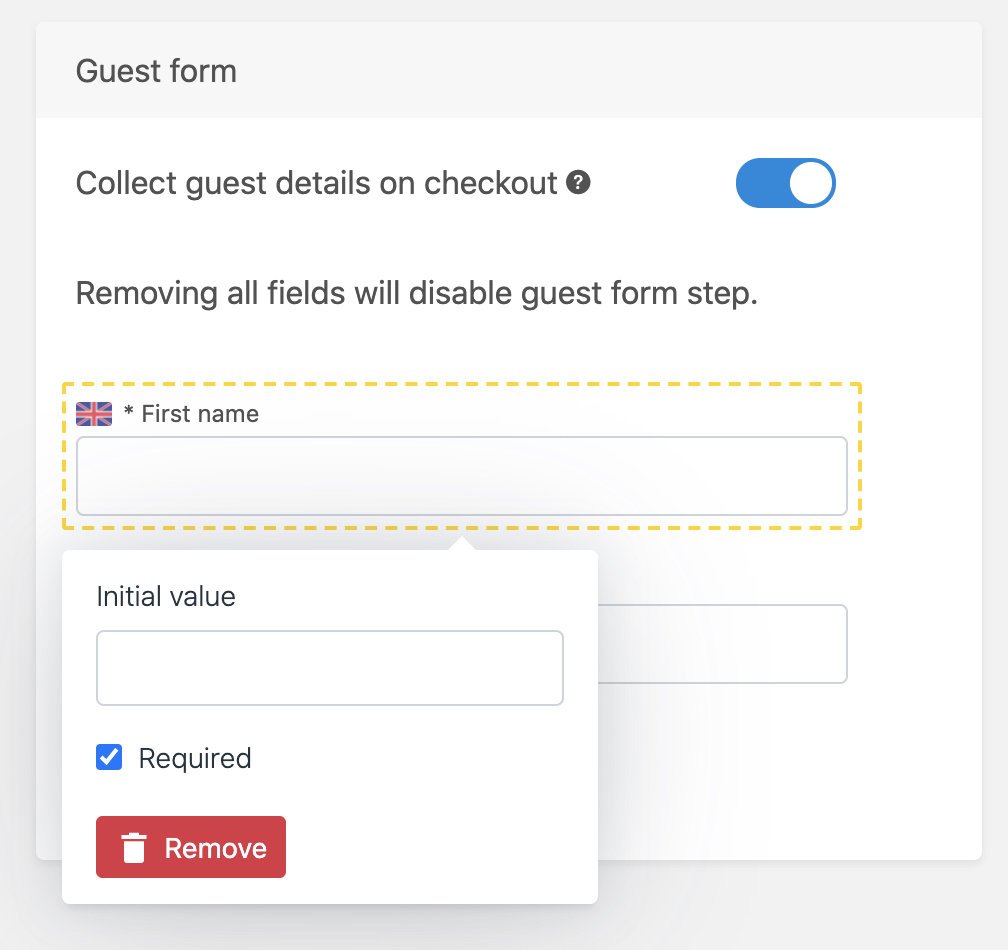 The Customer Form is displayed at checkout, after the booking summary. Here, we gather the Booker details. You can customize the fields in Customer Form.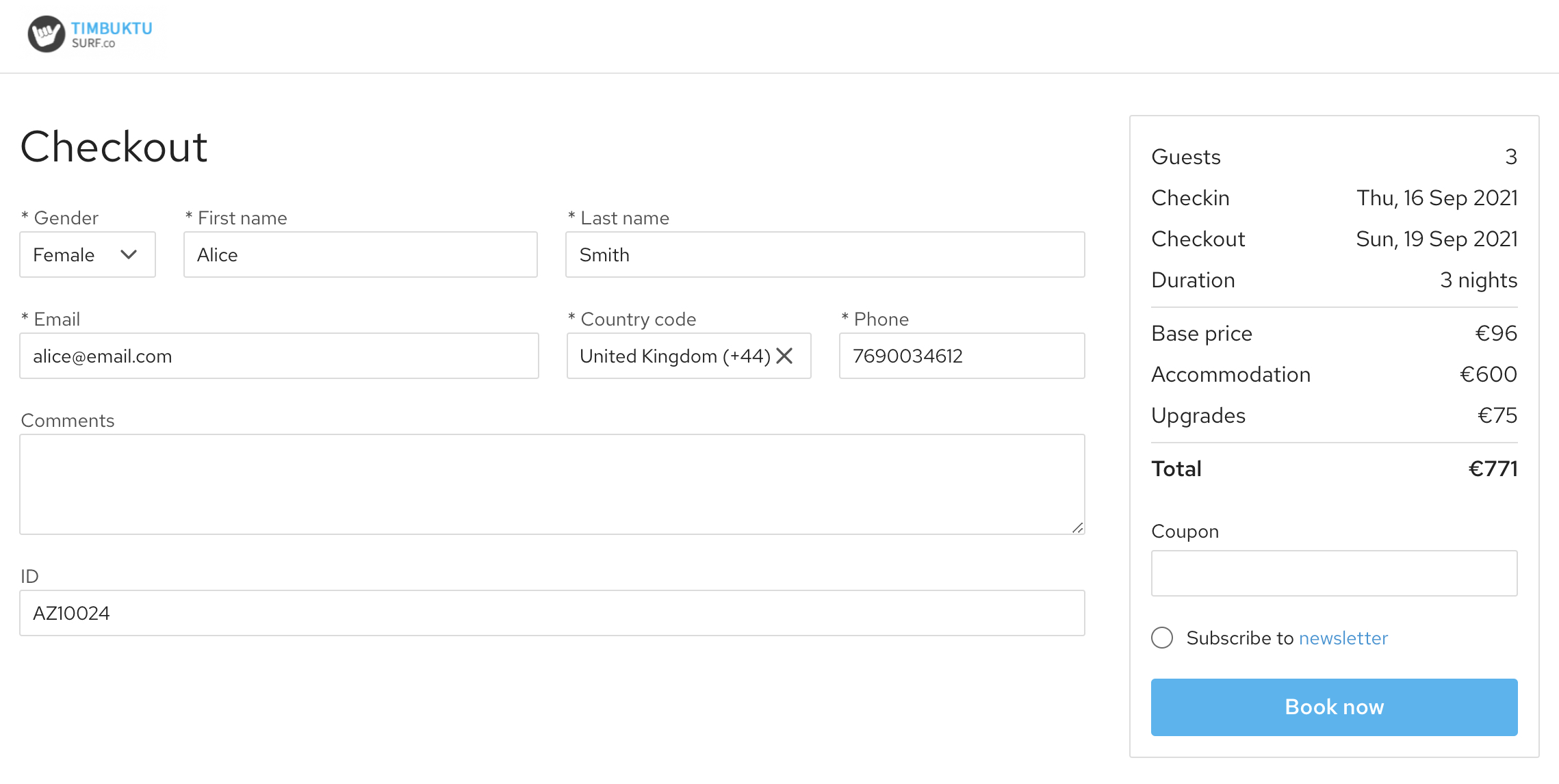 Enable the group booking mode
The group booking mode is available for packages. In this scenario, your guests will be able to choose to skip the "Guest Form" step and they'll be asked to provide only Booker details at the end of the booking process. You can ask for the rest of the guest details later on in the Customer Portal during the web check-in.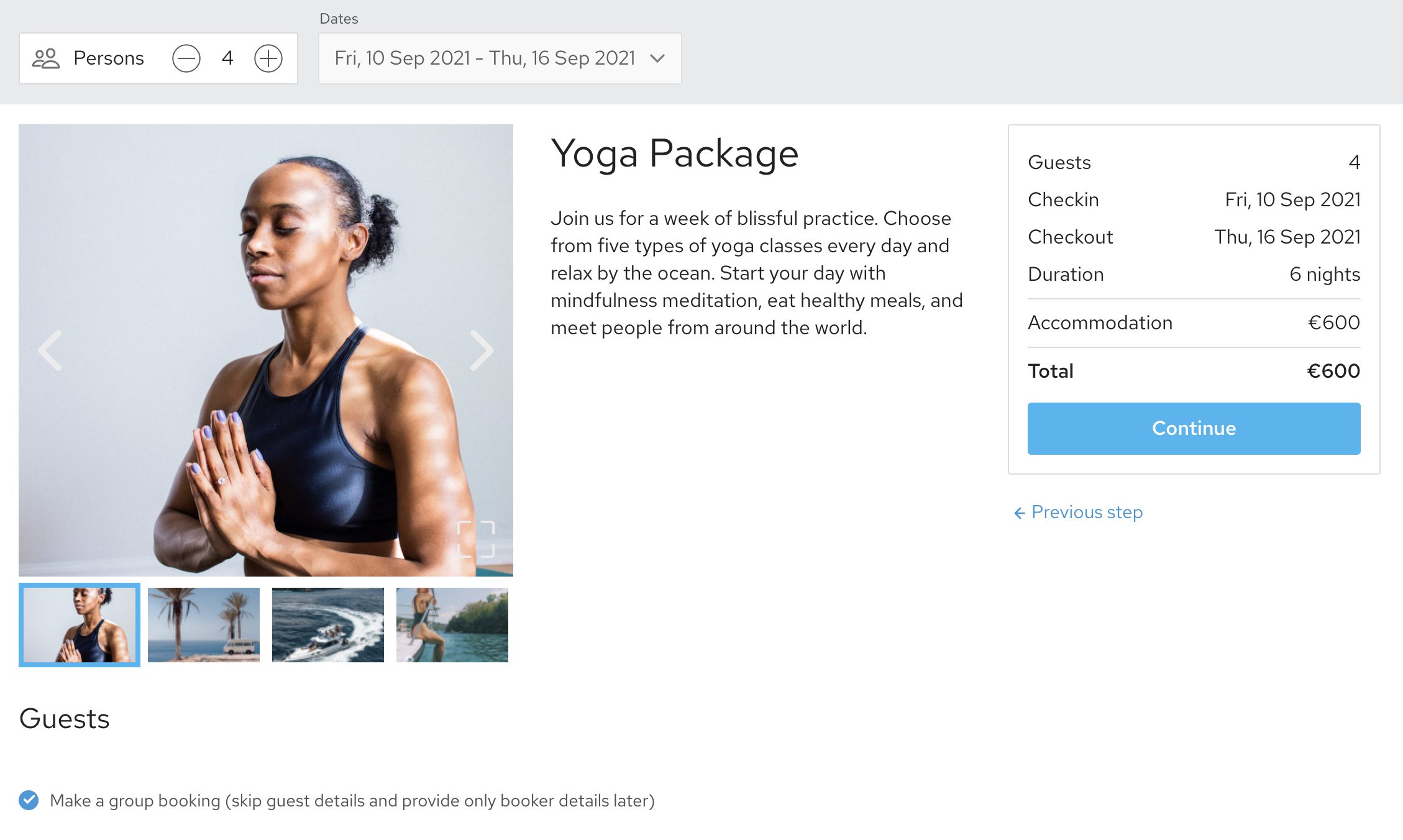 To set this up, go to your Inventory, and open the package. In the "Booking Engine" section switch the "Booking mode" from "Normal" to "Group".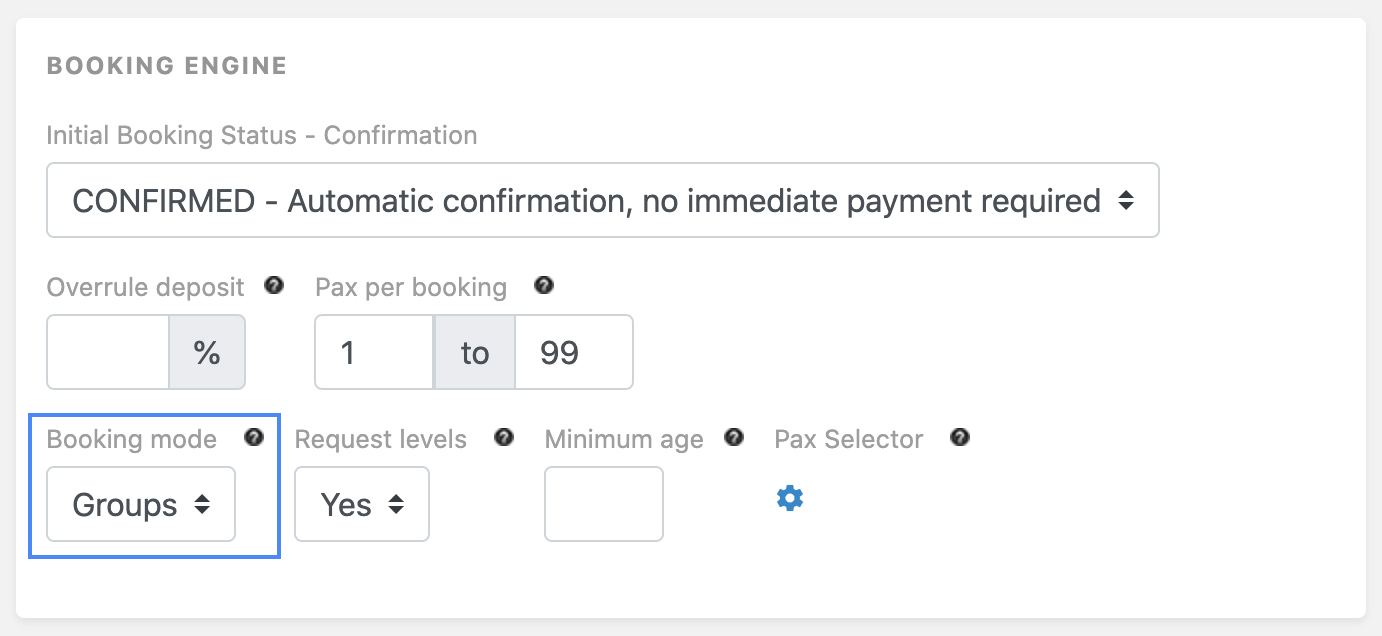 Set up multiple languages
If you are working with international tourists, it's a good idea to a couple of languages to your Booking Engine.
Bookinglayer has 16 language versions available. This means that the reservation flow (buttons, steps, navigation) is translated into those languages. However, it's important to provide your own product descriptions for packages and Booking Engine widgets.
To enable new languages, go to Sales > Booking Engine > Languages and choose the language you'd like to display. You can also change the default language option.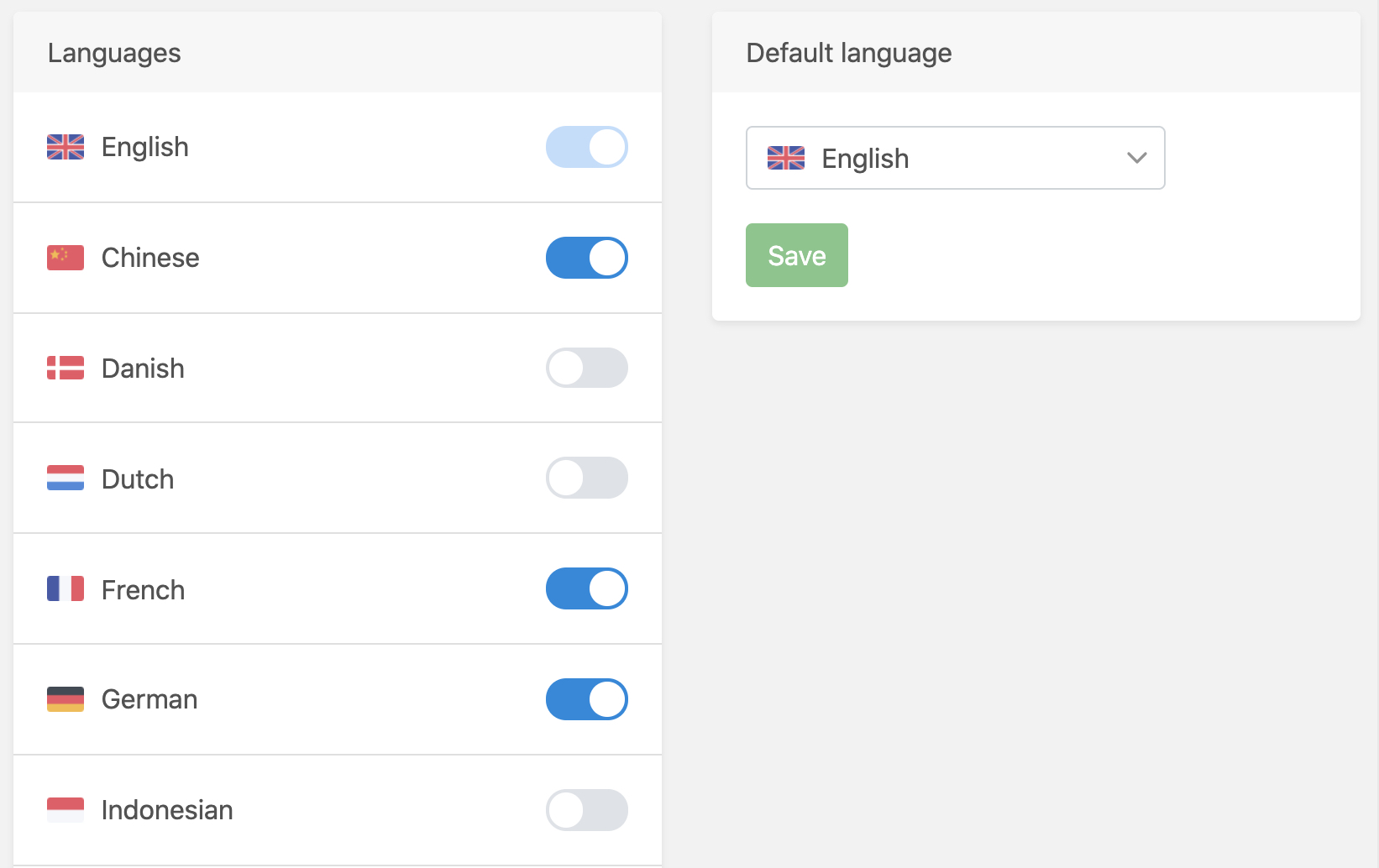 Once you do that, you'll be able to add translations for your widgets and products in the [Layout] section as well.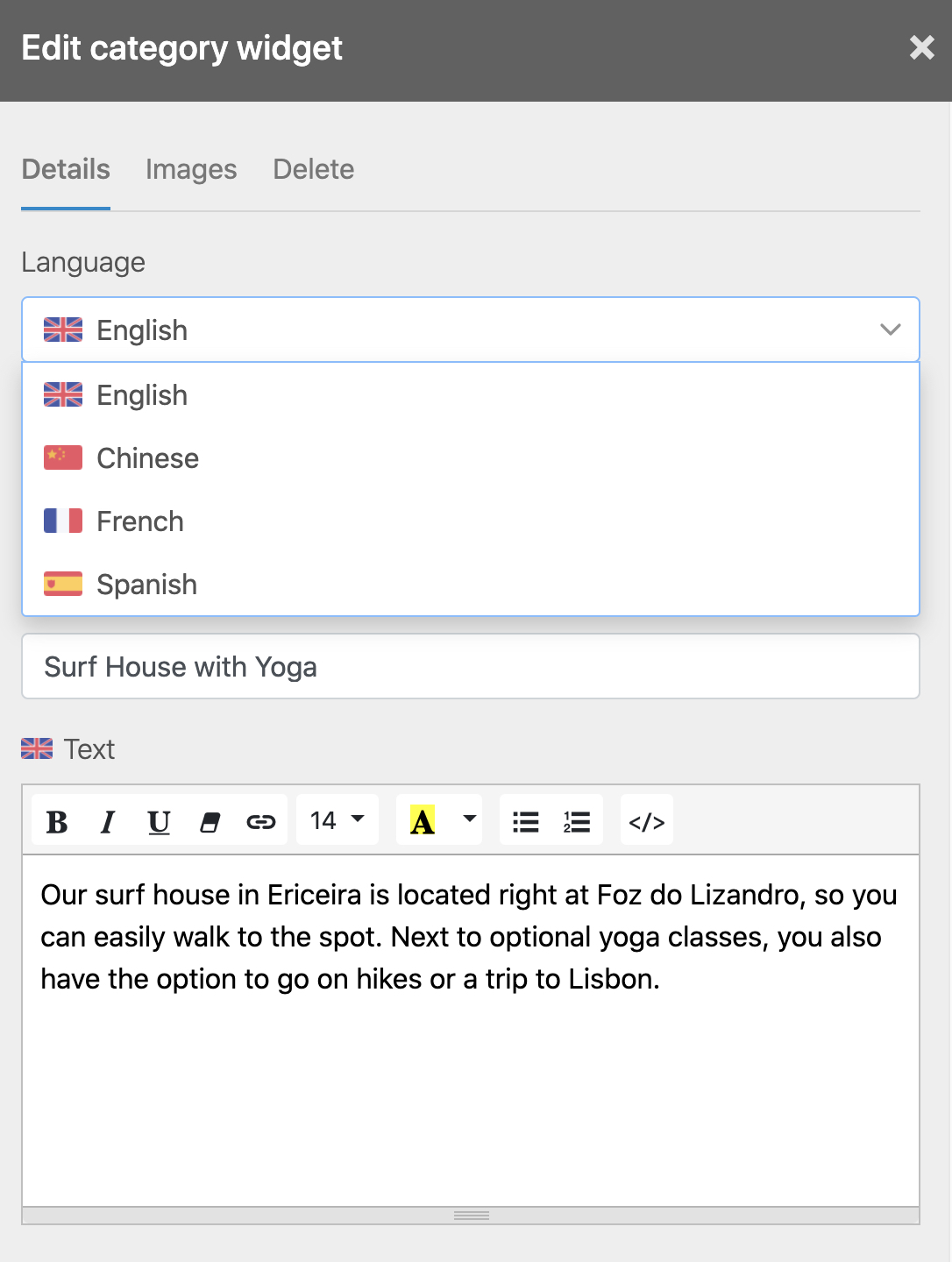 Apart from that, remember to provide your product descriptions in your Inventory as well in the "Content" section.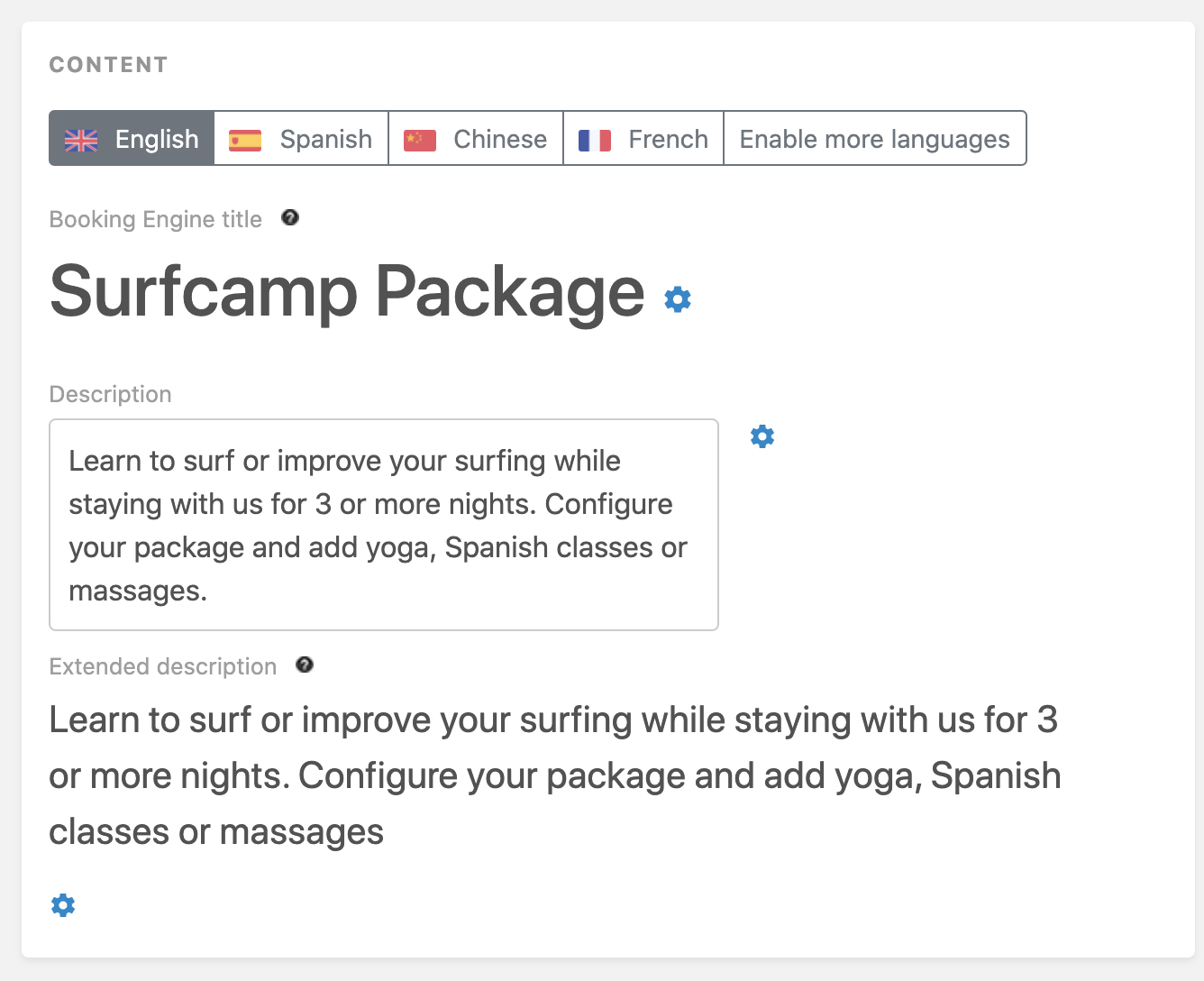 If you'd like to modify our translations of the booking flow, go to Sales > Booking Engine > Custom translations.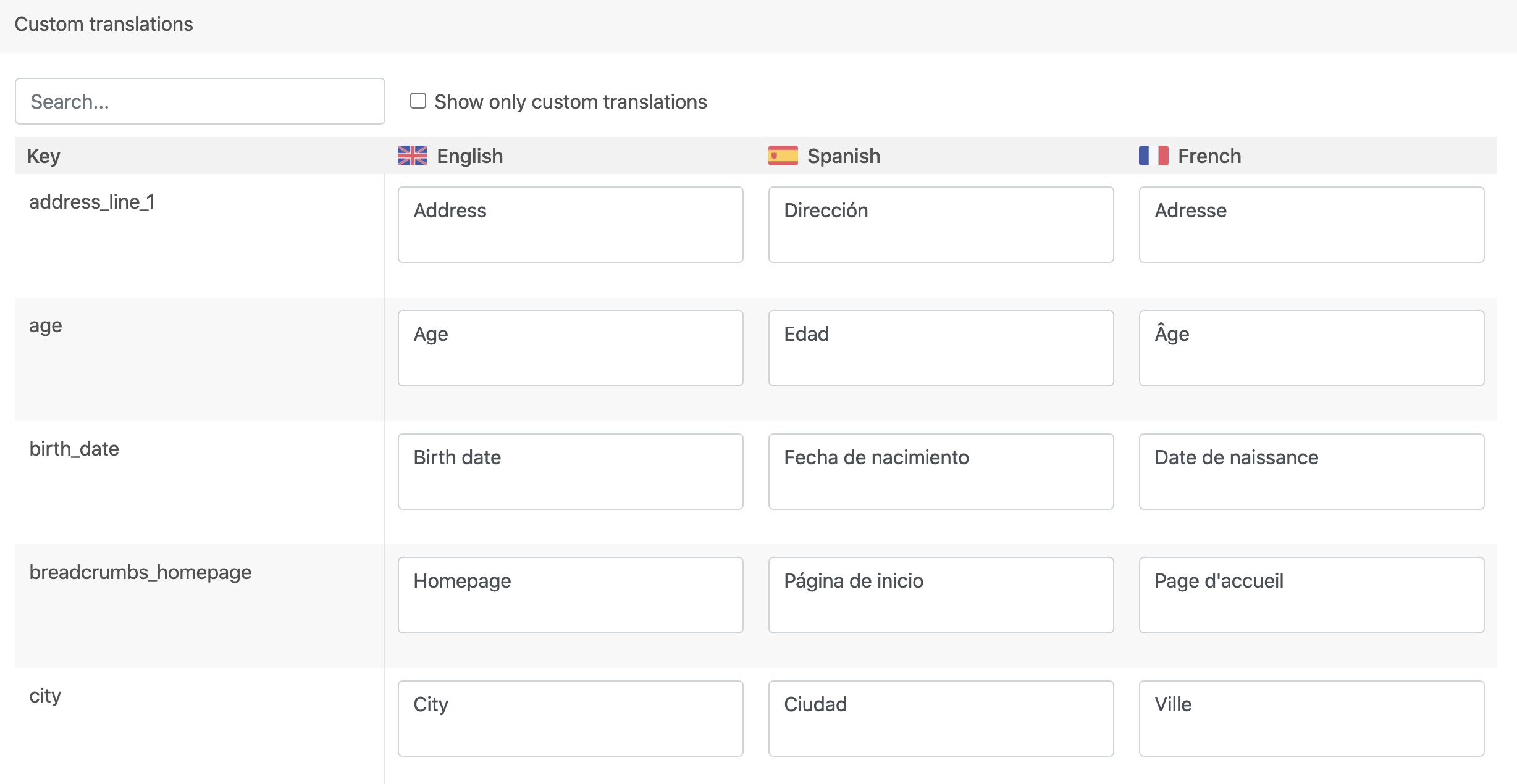 Create activity calendar
The Activity Calendar was created to help you manage bookings for scheduled classes (e.g. yoga, fitness or surf class). You can present your offer to people who are interested only in activities that you offer on-site. They won't need to go through the entire booking flow. Instead, they'd be presented with an easy-to-navigate calendar and a simplified booking form.
This is what the calendar looks like: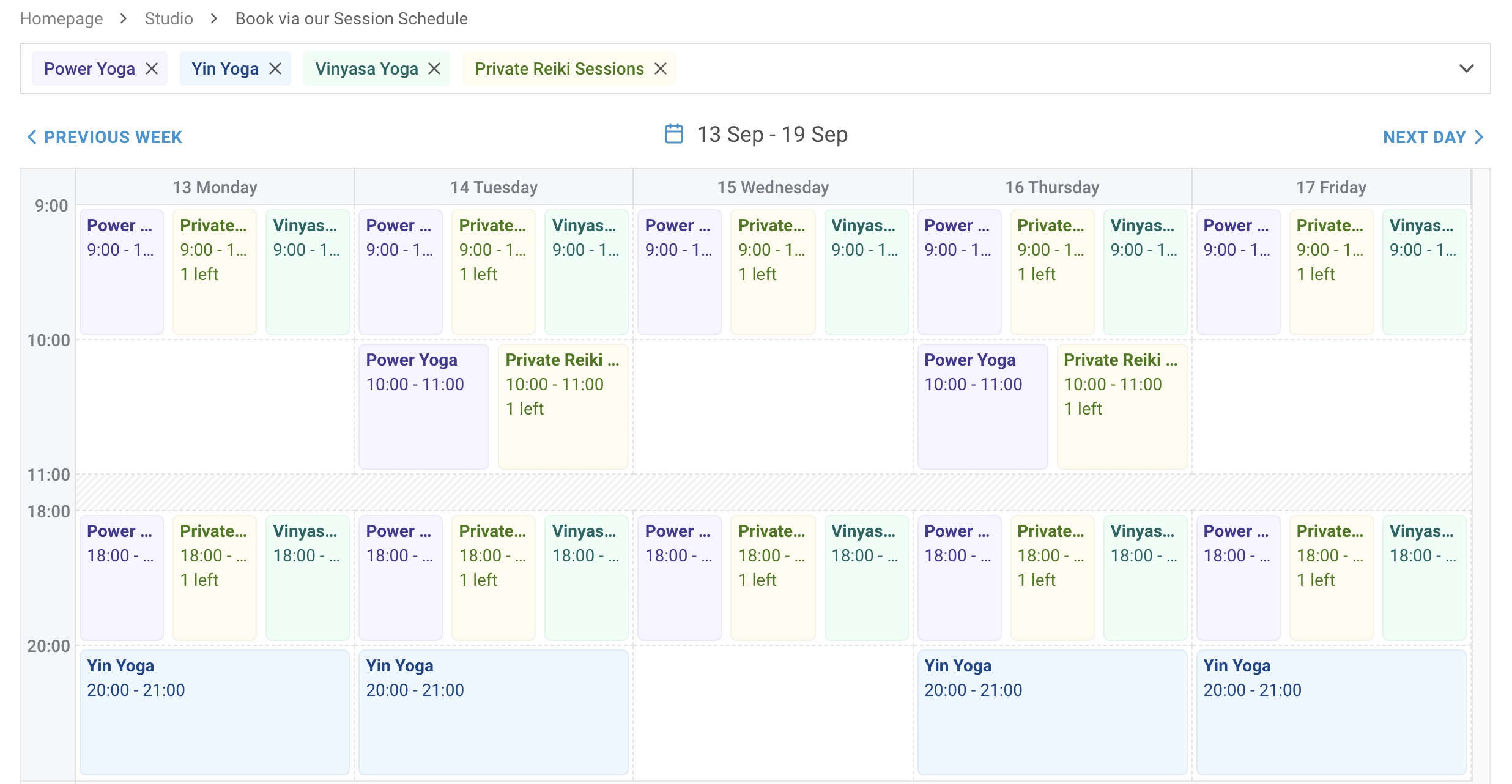 To set it up, create the Activity Calendar widget in Sales > Booking Engine > Layout, add your activities, and choose colors for specific classes.
Use your own URL for the Booking Engine
With a custom URL, your Booking Engine displays your own URL instead of the default URL (your-business-name.bookinglayer.com). It increases your online credibility and makes your website look professional. It can also influence positively your SEO efforts.
This option is included in the Professional plan, but feel free to contact our Sales team to discuss this scenario for your business.
Consider deep linking
Depending on your offer, sometimes it's a good idea to link from your website to the main page of the Booking Engine and showcase all the options. Sometimes, it's better to link directly to specific packages. It depends on your preferences and marketing funnels. It's also a good practice to link directly to packages from your landing pages (in paid ads or SEO landing pages).
To learn more about deep linking, visit our help center.
Optimize the booking experience
To provide the smoothest booking experience for your future guests, make sure your Booking Engine is optimized and your using all the relevant features. Let us know what you think about these tips and if you had a chance to implement them!
Follow our newsletter and visit changelog to get all the info about new features and developments.
And of course, don't hesitate to contact us in case of any questions!