Still time for doing the things you love?
Learn how Bookinglayer can help you to get your lifestyle back.
Product Tour
We all went online in many areas of our lives. We're working remotely, shopping online, watching movies on Netflix, and meeting our friends on online platforms. It's a necessity but also a powerful trend that will influence our behavior and habits in the future.
Needless to say, our workouts went online as well. YouTube is getting bombarded with search queries like "home workout". 30-day online workout challenges are on the rise.
We all need to admit that during the lockdown, we sincerely crave to move our bodies. As humans, we are designed to move on a regular basis. So that's why joining an online class is such a powerful thing we can do at home for our wellbeing.
Connect with the online yoga community
Yoga takes care of more than our physical bodies. It's a great choice for a quarantine activity as it lets us work on our mind-body connection.
If we sprinkle the stream of yogic movement with some wireless grounding or remote chakra meditation, we'll have a recipe for a complete online yoga class.
Practising yoga online with a teacher and a group of fellow yogis is a completely different experience to following a pre-recorded video. A live yoga session can bring a sense of community that we all need right now.
Comparing to other activities, yoga classes are reliably easy to organize online. Nowadays, even Yoga Alliance gives tips on how to teach yoga online. So why not start an online yoga retreat or your own virtual studio?
Let's give it a try. It may even become a new income stream for your business. And you get to connect with people around the globe in real-time.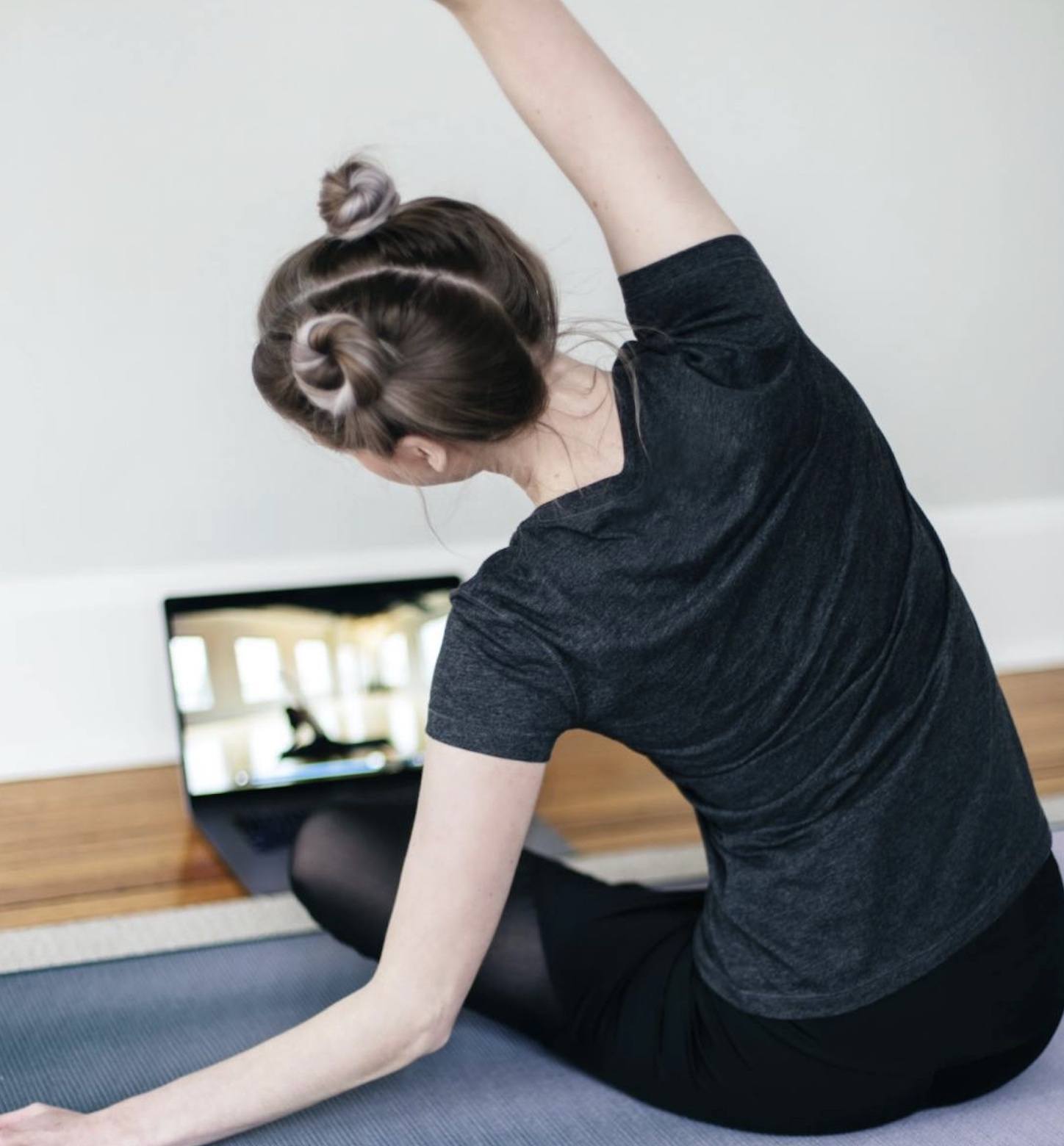 Host your first online yoga class
To start hosting online classes, you need a reliable streaming platform. I went into the research mode and compared some options for you. From the obvious choices to more advanced platforms. Let's compare streaming services that are suitable for teaching yoga online.
In this post, we covered the following online platforms:
Facebook Live
Instagram Live
Youtube
Zoom
Google Meet
Crowdcast
Namastream
I hope this comparison will make the choice easier for you. First, decide if you'd like to share free classes to promote your business or if you'd like to offer a full paid option. Both scenarios are great, depending on your current goals.
Facebook Live
For anyone willing to host a free yoga event, Facebook is one of the best free options. There are two ways to use Facebook for live online classes.
You can make the live transmission available for everyone on your company page. Another possibility is to give access to the transmission to the members of a specific Facebook group.
The transmission time is up to 8 hours for desktop and 4 hours for mobile. It's more than enough time to have a full yoga or fitness class.
Facebook Live stream works within your browser. Almost everyone has a Facebook account, so it's easy to access. There's no code, link, or any other restriction. You can make your class easily available for a wide audience. Users get notified when you start a live class, so you can get an additional engagement boost.
To learn more about the live transmissions, take a look at Facebook's guide on how to organize a virtual event.
Facebook Live summary:
Free to use
Available within a browser
4-8 hours of live streaming
Users get notifications when you start the live transmission
Instagram Live
Another simple way to organize an online event is to use Instagram Live Stories. If your reach on Instagram is wider than on Facebook, you should try this one. Like Facebook, it's also a free solution. However, Instagram Live limits the transmission to 60 minutes only.
Instagram is a good choice for free online classes because there's no way to restrict access to your transmission. All of your followers and Instagram users can see your live story.
Use Instagram Live to promote your classes. Offer a "quick yoga break" or a short live meditation. This way, you'll get all the benefits that the platform offers and extend your reach. Everything within the 60-minute time limit.
Just like on Facebook, your followers get notifications when you're going live. To start your first transmission, follow these steps.
Instagram Live summary:
Free to use
Transmission limited to 60 minutes
Users get notifications about your live event
Open to all followers and Instagram users
YouTube live stream
This stream looks like a regular YouTube video. It's convenient to organize. However, it may be harder to engage the users as you're not using a meeting "room". Your transmission is protected with a link, so it won't be availabbe to anyone if you don't share the link.
If you already use YouTube as a regular stream of income, you can monetize not only your videos but also live streams. This means that the users can see ads while watching your stream. It can be an interesting alternative to get some additional revenue while offering the class for free.
The stream works within the browser, so there's no need to install anything. The official time for a YoutTube stream is up to 12 hours. There's no limit for the number of users that can join your live event.
You can organize a live transmission on a desktop without any limitations, but to stream from your mobile you need to have at least 1000 subscribers. Check out the YouTube guide for more info on how to start.
YouTube summary:
Free to use
Available within a browser
Possible monetization with ads
Streaming up to 12 hours
No upper limit for the number of users watching the transmission
Zoom
Zoom has become one of the most popular tools nowadays. It's reliable and, in the basic version, also free to use.
The free version lets you host 40-minute meetings with up to 100 participants. With an upgrade, you get to host meetings that can last up to 24 hours. This means plenty of time for a complete yoga class.You can host multiple classes for your studio on this platform.
It's necessary to send the meeting link to the participants. There's an option to restrict access with a password or the "waiting room" feature. You are in full control of who joins the meeting. People can wait in the waiting room until you allow them in.
Anyone who wants to join the class will need to create a free account and install Zoom on their computers. This process is fast and easy to explain, so it doesn't create any major obstacles to join your online practice.
To make the class more interactive, you can encourage the participants to turn their cameras on. There's no limit to the number of participants that can have their cameras on at the same time. This feature will make your class feel more like a group event than an instructional video to follow.
It's one of the most affordable options right now if you'd like to organize a paid or membership-based yoga class. To learn more about organizing a Zoom event, check out Zoom's official guide.
Zoom summary:
Free and paid options
40-minute meetings are free
100 participants (or more with a paid subscription)
Class participants can join with video
To join an event, everyone needs to install Zoom on their computers
Google Meet
If you already have the G Suite subscription for your company, you can use Google Meet right away. Otherwise, with a small charge, you can access all its features with the Basic plan.
On this platform, you can host a meeting for up to 100 participants without any time limit. The participants can turn their cameras on for a more personalized experience.
The access to your class is restricted, so you'd need to send the meeting link to all participants or share it in your social media.
You'll have a specific meeting room, so the class may feel more like the one at your retreat. However, there's no need to install any software. Google Meet is available within a browser.
This is also a great option for anyone who wants to organize paid classes and needs limited access to the stream. You can learn more about Google Meet in their help center.
Google Meet summary:
Affordable pricing
Video for host and participants
100 participants
No time limit
Crowdcast
Crowdcast is a subscription-based alternative that offers advanced features and metrics for your online events. What stands out with this platform is their integration with Patreon, so you can raise funding and stream your events to your patrons.
They also have an inventory of webinars on their website, so you can get additional exposure. There's also an option to sell tickets for your events. It's a paid option, but you can test the software for free for 14 days.
Crowdcast summary:
Subscription-based software
Free 14-day trial
Patreon integration
Namastream
With Namastream, you can create your full online yoga studio. This includes virtual classes, streaming, payments, and more. So if you'd like to build a complete online portal for your yoga classes, this can be an option for you.
You can create a membership, customize the studio, and collect payments. In addition, to maximize legal protection, they provide the liability waiver written specifically for wellness disciplines.
Worth considering if you'd like to create a completely new online stream of income. Namastream also gives you some tips on how to become an online teacher if you're serious about making teaching yoga online your business.
Namastream summary:
Subscription-based software
You can create a complete online yoga studio
You can collect payments and create memberships
Take your business online
Going online with your yoga classes is an opportunity to reach more people than you'd normally do at your studio or retreat. Building a global community with virtual event participants from different countries is a fun way to promote your offline business.
People are getting used to taking classes online. This trend can catch on and become a valid business option way beyond the 2020 lockdown. Let us know if you're hosting any online events this year!